It's no secret that the release of SharePoint 2013 has waves of customers thinking migration. Some are planning to move their legacy content directly to the new version—whether on-premises or Office 365. Others are looking to move to SharePoint 2010, staying one version away from current.
In any scenario, SharePoint migrations are complex and risky projects, and you need to plan effectively. We talked about the importance of proper pre-migration assessment in a recent migration best practices webcast. But let's explore pre-migration readiness in more detail below.
In the course of your assessment, you will use various tools to collect relevant configuration and usage information about your existing deployment. If Quest Migration Suite for SharePoint is your migration solution of choice, you have a few additional assessment tools at your disposal to simplify and automate pre-migration analysis, such as the built-in pre-migration report.
The pre-migration assessment report enables you to analyze the contents and configuration of a particular source SharePoint site (or set of sites), compare it against the intended SharePoint target and produce a report on potential pitfalls you may need to address.
For those who don't want to read any further, here is a 5-minute video on this feature.
If you can't view the embedded video on your phone, here is the direct link: https://www.youtube.com/watch?v=-SJCWHXnLXs.
Let's move on for those that want to keep reading.
Here's what you see when you start the Pre-Migration Analysis tool: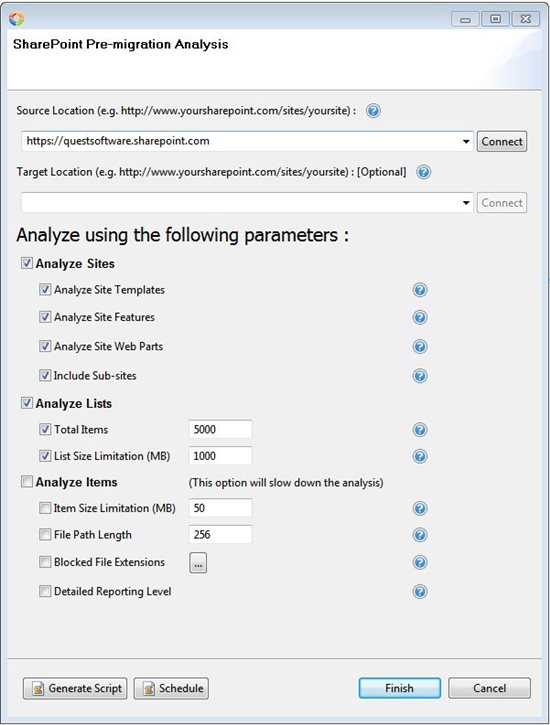 There are a number of checks you can choose to perform on your site.
The first group (Analyze Sites) is concerned with site configuration aspects such as site and list templates, features and web parts in use.
Analyze Lists & Items inspects the site content to identify oversized lists, documents, etc. Typically, you will want to leave the checks selected by default for your analysis. If you are unsure of what any particular check will do, click on the question mark to the right – this will present a pop up description of the item.
The target location is optional. If you provide a valid site URL, the tool will retrieve a list of SharePoint templates, features and web parts available for this site and compare it against the source site configuration. If left blank, the comparison will be against a list of standard SharePoint templates, features and web parts. This will be used to identify custom components that will need to be deployed to an out-of-the-box SharePoint environment in order for the site to properly deploy.
As with most operations in Migration Suite, you can run the tool interactively or generate a command line script to schedule the report (useful for large site collections).
The end result will be an Excel spreadsheet with multiple tabs corresponding to the selected checks. Therefore, by default you will have tabs for site and list templates, features, web parts, site workflows and list analysis.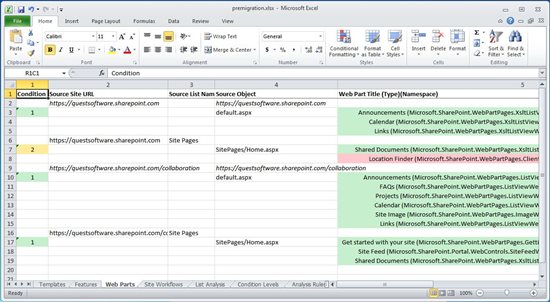 Interpreting the assessment results is fairly straightforward. Look for items marked red – these are not compatible with your target SharePoint environment. Remediation steps will commonly involve deploying missing custom solutions to the target SharePoint environment.
For certain custom site and list templates, re-mapping to standard SharePoint templates with the built-in mapping feature in Migration Suite is another option to consider. E.g. the report highlights a site based on a custom third-party site definition, for which no updated SharePoint 2013 version is available. You would take the site template ID from the report (e.g. CSITE#1) and create a simple single line CSV file to map it to the standard team site template:
CSITE#1, STS#1
Then you just attach the mapping to the site copy job in Dell Migration Suite and the tool will re-template your custom sites on the fly. Finally, the List Analysis tab contains a host of valuable information about your lists and libraries. Among other things, you will see how many files are checked out by users, how many list workflows and InfoPath forms are attached to each list and library and if the list employs hidden columns. This information will drive many of your migration decisions, so having it available is extremely useful for migration planning.
You can probably see by now that the pre-migration report in Migration Suite can be a valuable assessment tool no matter which migration approach you subscribe to. If you want to evaluate it for you migration project, get a trial copy of Migration Suite for SharePoint and get 30 days of unlimited pre-migration reporting for free.
We will be grateful for any suggestions regarding making the tool more useful and versatile in our customers' SharePoint migration scenarios.
Do you feel there are some other areas we should include in the analysis or the report format can be improved? Leave us a comment below!