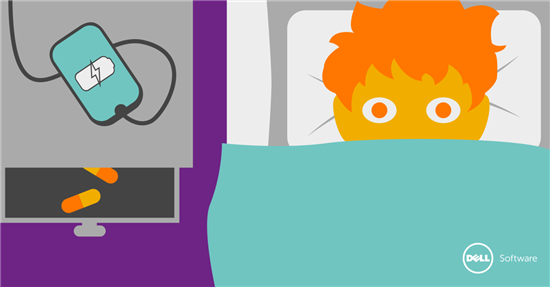 All week, we've been talking about smarter ways to Exchange backups.
Why? Well, to be honest, they can be a pain.
If you're the "computer guy" (or girl) for your company, you probably spend lots of time messing with Exchange backups, and backups in general.
In a couple of previous articles we talked about the quite primitive backup method known as offline backups, and the slightly more advanced Native Windows Server backup. Both have advantages and drawbacks; they may be right in some situations, but you need to be aware of the limitations.
A Step Up For You?
Today, let's talk about file- and item-based backups. This technology is favored by most third-party backup software products. And it's a step up from the methods we've already talked about, in some ways.
Want advantages? Here's a big one: It backs up not only the Exchange database but also individual items in the database such as email messages and contacts.
The benefit here over the previous two backup types we discussed is that you can restore individual email messages. This single-item recovery ability improves restore times in a big way (and can make your life a lot easier when the boss accidentally deletes an important email).
This is especially true when you have the backup files stored on fast disks instead of slow magnetic tapes.
Want another benefit of this backup type? You can use it for both physical and virtual machines.
But not so fast…
You figured there had to be some drawbacks right? Right.
Drawback #1: your data is essentially being backed up twice. This takes more time.

Drawback #2: you pretty much have to do the individual items backup during your off-hours backup window. It's not practical for you to have the backup program querying the server many times during the workday looking for new emails and individual items to back up.
So you still need to plan on having the file- and item-based backup run during a time when the Exchange databases can be taken offline.
That may work just fine if you have a small "mom and pop" operation, but for a big company with teams working around the clock? Not so much.
Drawback #3: with this method, if you don't run backups until after the workday is over, you end up with a lot of emails at risk.
Drawback #4: like the offline and native Windows Server backups, file- and item-based backups don't give you an automated verification of the backup's accuracy. You'll have to run a manual recovery of a selected file to test the backup data's validity.
Although in some ways, this backup technology is a big step up from the previous two we discussed – the ability to restore an individual email is nothing to sneeze at, and can be a lifesaver when you need it – in other ways, it's still sadly lacking.
We Want To Help You!
As always, before you choose an Exchange backup and recovery solution, consider your particular situation from all the angles:
How big is your company?
How important is email to you?
How important is it to be able to restore individual emails?
Do you have an available consistent "backup window" when you can take Exchange offline?
What's your budget for a backup solution?
Need help making your decision? We're here for you. We've put together a valuable guide you can have for free. It's an eBook called Six Ways To A Smarter Microsoft Exchange Backup. It shows you the pros and cons of six separate approaches for protecting your Exchange data. Download your copy now!