Much has been made in the media in recent weeks about the challenges women face in pursuing STEM (science, technology, engineering, and mathematics) careers. The challenges are real and they're plenty, everything from lack of opportunity and unequal pay to outright gender discrimination in some cases. And make no mistake – community leaders and media influencers are absolutely doing the right thing by calling attention to these issues. In fact, in March we discussed many of these topics during our monthly #ThinkChat on Twitter. We examined the challenges that women in STEM face as well as potential solutions to closing the gender gap. For more information and resources around STEM fields and careers, you can read the Storify transcript of our chat or view our On-Demand Webcast, "Career Planning for DBA's" with Brent Ozar (@BrentO). If we're to truly empower women to achieve all they can in the STEM community, we can no longer sweep these issues under the rug.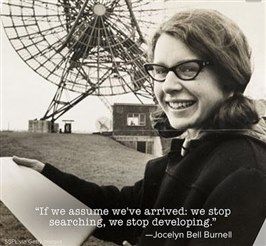 At the same time, having worked my way to a rich and rewarding STEM career, the best advice I can give to young women aspiring to do the same is to block out the noise and focus on YOU. Now, at this point, you might be confused. After all, I just opened this blog talking about how important it is for the broader STEM community to openly discuss the challenges women face. But while it's important for the community to have those conversations, I think it's equally important that women not get caught up in them. Don't allow yourself to get consumed with thoughts of hurdles and roadblocks. Don't allow negativity to become your reality. You – and your dreams – are too important.
People often ask me if it's hard work being a woman engineer. To which I always say yes. It's hard work being a woman engineer because it's hard work being an engineer, period. Male or female, being an engineer (or chemist, or scientist, or statistician, or technologist) takes time, energy, study, dedication, and most of all, passion. And that, more than anything, is why I caution women not to get too caught up in all the talk about hurdles. Building a STEM career is not first and foremost about overcoming hurdles. Yes, there will be hurdles along the way. I'd be lying to say otherwise. But building a STEM career is first and foremost about developing and pursuing your love and passion for the field. That's where it starts.
I have three heroes in STEM. The first two you've probably heard of – Elizabeth Blackwell, the first female doctor, and Marie Curie, who won the Nobel Prize for chemistry in 1911. The third is Masai Hu, M.D. You've never heard of her, but I certainly have, since she is my grandmother. As a young girl growing up in mainland China, she was always encouraged by her progressive-minded father to be passionate about learning and study, endeavors usually reserved only for boys at that time. As a teenager, she saw first-hand the atrocities of war and never got over the feeling of helplessness that came with being unable to assist the wounded. So she channeled that passion and set out to become a doctor.
With support from her father and husband, she attended the University of Sorbonne, learned French, and earned a degree as a medical doctor, ultimately choosing to become an OB/GYN. She was one of the first Chinese women of her generation trained in western medicine, and went on to practice medicine for thirty years, along the way safeguarding women, bringing new life into the world, and delivering women's health education to rural areas.
I bring up her story because while it was undoubtedly fraught with hurdles and roadblocks – Chinese women simply did not become doctors at that time – it was defined by love and passion. All of which brings me back to the point of this blog. As women pursuing careers in STEM, let's absolutely push for productive dialogue about the hurdles we face, but let's not let those hurdles define our careers. Let's let our love and passion do that.
Just like I didn't have to look far to find an example in my grandmother, young women today can find role models and heroes all around them. People like Gwen Shapira (@gwenshap) at Confluence|Kafka, Yael Garten (@yaelgarten) at LinkedIn, and Kathleen Ting (@kate_ting) at Cloudera are blazing new trails in big data, data science, and software technologies. They've proven that as women, we can follow our passion for STEM and do whatever it is we dream of achieving.
In addition to being an engineer and champion for all things data, I'm also a mom, and when my children were little, my favorite book to read them was the Dr. Seuss classic Oh the Places You'll Go. There's a quote in that book that I often remind my children of today, even as they've grown older, and one that women pursuing careers in STEM would likewise do well to keep in mind as they drive forward. And since I can't say it better, I won't even try.
"You have brains in your head. You have feet in your shoes. You can steer yourself any direction you choose. You 're on your own. And you know what you know. And YOU are the one who'll decide where to go. So GO and realize your dreams!"
Next Step:
Looking for how to get started in database careers in STEM? View our On-demand webcast: "Career Planning for DBAs"