The other day I had a chance to sit down with Eric Brown, the product manager for our Foglight for SQL Server product. I wanted to get some of his insight into the product's new virtualization capabilities and what it means to IT organizations who have physical and virtual SQL Server environments.
Heather (HRE): We know that companies are virtualizing many parts of the IT stack. How common is it for organizations to virtualize SQL Server?
Eric (EB): we recently surveyed our customers and learned that SQL Server is one of the most virtualized elements of an IT environment. Many departmental apps are being consolidated into virtual hosts running on big hardware.
HRE: That being the case, what are IT professionals doing to manage those environments? I say "IT Professionals" because I assume that in general, there are often separate teams managing the physical and virtual environments, so that any combination of DBAs, virtualization admins, architects, IT management… all have a hand in there somewhere depending on how an organization is structured.
EB: Exactly right. Most of the management tends to be done separately. DBAs have one set of priorities and the virtualization teams have another. They don't always communicate directly, and they most certainly don't have the same view of what is going on in SQL Server. From a management standpoint, it's difficult to determine where performance problems originate in virtual environments natively with VMWare, not to mention that a DBA team may have no clue what is going on in the virtualized environment at all.
HRE: Which brings us to Foglight. With the latest release of Foglight for SQL Server we have done two things – first, we have added virtualization monitoring capabilities right into the product, and second, we've developed a completely separate freeware add-on to vFoglight that gives more insight into a virtualized SQL Server environment. What are the benefits of these products?
EB: Let's start with the SQL Server add-on to vFoglight. It is a lightweight utility that virtualization admins can use with their vFoglight licenses that:
Allows Virtualization Admins to detect, diagnose and resolve performance problems before users are affected
Provides visibility for other teams in your organization such as DBAs, IT management, application management, etc.
And helps to mitigate the risks associated with downtime in a virtualized environment
HRE: Impressive that you can speak in "bullets" [;)]…. So the add-on just looks at the virtualized environment. What if an organization really wants to close the loop and have a full picture of their entire SQL Server environment, the full Foglight for SQL Server cartridge is the answer.
EB: Yep. Foglight provides monitoring for physical and virtual environments, deeper diagnostics, and other additional features not available in the add-on alone.
HRE: Making everyone's lives easier so they don't have to rely on guesswork or manual processes.
EB: That's the idea. Here's what the dashboard looks like - everything in one place so you can see what is going on across the environment in real time: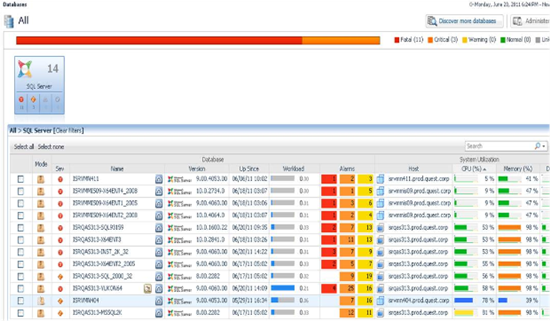 HRE: Awesome! People can find out more and download Foglight for SQL Server and the SQL Server Add-on to vFoglight on the Quest website. Or, if you're at VMWorld in Vegas this week, come and visit us at booth #521. More details on that here. Thanks for the chat Eric.