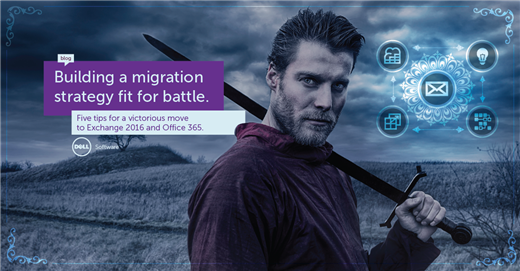 As season six of HBO's "Game of Thrones" brings more questions, fans can still count on one thing: the characters will almost certainly never make a rash decision. From kings to concubines, the denizens of the Seven Kingdoms engage in scheming that would do Machiavelli proud. The stakes for your migration to Exchange 2016 and Office 365 may not include actual stakes (burning or otherwise), but we can still benefit from the show's obsession with a well-planned attack. Here are a few steps to help ensure your email migration is victorious.
1. Perform a Pre-migration Assessment (Take Stock of Your Forces)
Only the arrogant boy-king Joffrey was foolish enough to think he could defeat the army of Stannis Baratheon on his own. If not for his uncle Tyrion taking honest stock of their situation and seeking help from the Alchemists Guild (and their stockpile of "wildfire"), Kings Landing would have been sacked. Like Tyrion, you should make an honest appraisal of your organization to ensure that only relevant data is moved to the new environment, minimizing business disruptions and potential revenue loss. And don't forget to consider delegation relationships between users — if one user is migrated, how will this impact their delegate's daily work? And what about your state secrets? Sensitive data (i.e., Social Security or credit card numbers) should be removed from user emails before the migration begins.
2. Optimize Your Active Directory (Outfit Your Army)
No one in the Seven Kingdoms, neither king, nor knight nor common soldier, would consider going into battle without the right armor and weapons. In the same way, it's vital to modernize your AD to prepare for cloud or hybrid environments. Since AD is the source of all authentication, migrating to Office 365 requires linking your on-premises AD to a public, cloud-based directory such as Microsoft Azure AD. Given that AD has been around for 15-plus years, your AD environment will almost certainly need to be organized before the banners are hoisted and your army takes the field.
3. Plan for Coexistence (Have a Battle Plan)
For Mance Rayder to assemble an army of "free folk" to escape the onslaught of white walkers, he had to unite dozens of northern tribes, many of whom were bitter enemies (i.e., the Thenn, who might eat someone). Compared to his task, making sure your users can collaborate effectively during a migration is like a stroll in the gardens of Kings Landing. Nonetheless, having a coexistence strategy is crucial. Users must be able to email one another and schedule meetings while migrating to Office 365 without causing confusion.
4. Run a Pilot Migration (Test Your Battle Plan)
Tyrion had no time to make sure his supply of wildfire could sink a ship; he had to stake the fate of Kings Landing on the promises of the alchemists. Fortunately, there's no army at the gates of your organization; so you can afford to do a test run. The goal of a pilot migration is to validate the procedures you've developed and root out problems ahead of time. In that spirit, you should welcome difficulties. Better now than when your enemy's troops are storming the beaches in Blackwater Bay.
5. Schedule Migrations to Minimize Impact (Time Your Attack)
In battle, you want to launch your attack when your enemy is weakest and your army is strongest. When migrating to Office 365, migrate users who work together simultaneously to minimize impact on those groups. Try scheduling your migration to avoid working hours, month-end or quarterly activities, maintenance windows or other factors particular to your forces — and victory shall be yours.
Want to get all eight steps needed for a successful migration? Download our complimentary white paper.