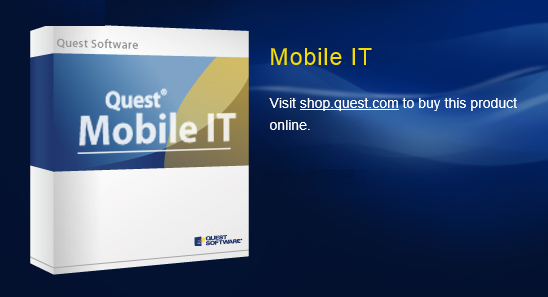 Our Platform for Mobilizing Enterprise Software, Mobile IT, was recently nominated for a Best Of TechEd Award under the Mobile and Wireless category. While we did not win it is extremely exciting that our brand new solution is already making headway with enterprises that want to go mobile. If you are not familiar with Mobile IT it is a simple platform that not only allows Quest Products to be used on a mobile device but also internal applications too.
As an example, we use Mobile IT internally to allow our sales force and Systems Consultants to use their scheduling software from their Smartphones. This internal application mostly was accessed from desktops and other than a web browser had no mobile aspect to it whatsoever. During the final presentation, it was awesome to see the judge take special interest in the Quest approach for taking Enterprise Applications Mobile. Finally, congratulations to Nokia for winning the award with the Lumia 900.
If you would like to learn more about how Quest helps mobilize enterprise applications take a look at the Mobile IT Community and Mobile IT Product Page.