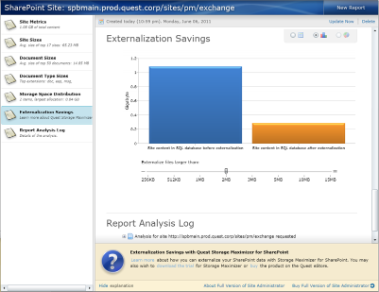 Use the Externalization Savings Calculator in the newly updated Site Administrator Reports Freeware by Quest Software to see how much SharePoint space you could save if you externalized some of your SharePoint data using an externalization provider.
Site Admin Reports Freeware is a free on-demand application that gives you at a glance reports for a SharePoint site. This application leaves no server footprint nor does any of your data leave your network.
Calculate your SharePoint space savings today: https://www.quest.com
If externalizing SharePoint data is of interest to you, then check out our new externalization tool called Storage Maximizer for SharePoint here.