Considering the number of companies that have adopted the ITIL model for IT process, a solution with a module such as the Change Analyzer is more relevant than ever. Foglight for Virtualization Standard's Change Analyzer - Infrastructure History tab will allow you to report, "Who did what, when?
This can be useful for companies with strict Change Management policies. I speak with many customers who tell me that the Change Management group is interested in getting visibility in what's going on in a virtual enviroment. You can easily report changes that occurred such as:
- VM Removed
- Virtual Disk Added to Datastore
- HA Disabled
- Datastore Removed
- VM CPU Allocation Increased
- VM Memory Allocation Decreased
Change Analyzer can also be used as an auditing mechanism. When there are dozens of people with full admin access to vCenter, resource allocation can get chaotic. Events such as large virtual disks being added and increases in memory allocations can make capacity management and tracking of resources extremely difficult. Change Analyzer can help "police" such actvities.
Below is a screenshot of the Infrastructure History for a Report Period of "This Year" - here's where you can see the time, risk level, the event, the details, and who performed the operation.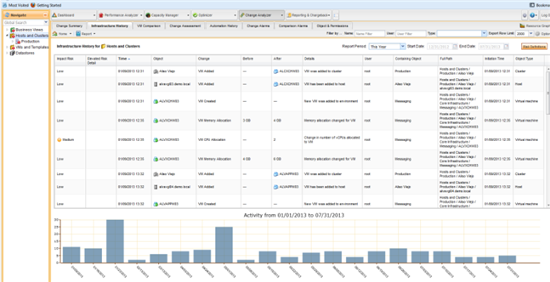 The Risk Definitions button can help you define what events are considered "Low", "Medium", or "High" risk. By clicking the Risk Definitions button, you can customize the risk levels of the various events.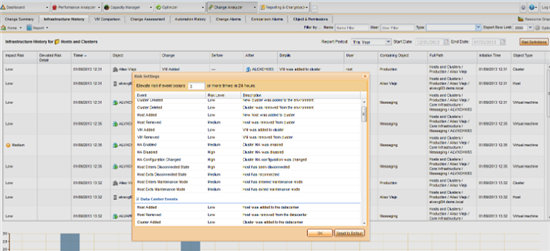 By utilizing Foglight for Virtualization Standard, you can better monitor your virtual enviornment, as well as proactively audit and track changes so that they better align with senior management process goals.