"How's that Citrix XenDesktop implementation working out for you?"
"Great," you say.
And it is working out great for you. You're saving on desktop hardware, and your investment in XenDesktop and XenApp is a big step toward more mobility and security in your company.
"Are you getting the performance monitoring you need?"
"More or less," you say.
And Citrix does give you useful reporting — more or less — about how many desktop connections you have and which users are running which apps on which servers.
Performance monitoring for XenDesktop and XenApp
But it doesn't take you very long to discover that new questions pop up when you're trying to monitor the performance of your virtual desktop infrastructure (VDI), and that it takes a lot of work to get the answers.
User experience — Are users having trouble logging in or getting their work done?
This is a tough one for Citrix administrators. How do you know what life on VDI looks like to your users, short of walking around and peeking over their shoulder at their screen? You may see the help desk tickets come in, but how can you monitor user-level performance across your entire XenDesktop/XenApp environment?
Citrix environment — Are sessions or machines failing? Which groups are affected?
When users can't log in or launch an app, they can't get their work done. What's happening in your Citrix environment? Maybe you're low on licenses, and some users have to log off before others can log on. That would certainly put a dent in your virtual desktop environment.
NetScaler status — What's happening on the network?
"Why is my display so jittery?" "Why does the app run so slowly?" You can't ignore user problems like those, which are usually rooted in the network. That means turning to other tools to measure latency and round-trip time.
Hardware/software infrastructure — Is all the plumbing underneath the VDI running properly?
XenDesktop and XenApp can run only as well as the infrastructure you've got under them. That includes having enough computing resources — CPU, network, memory and storage — available to support the Citrix infrastructure and VMware itself. And don't forget Microsoft Active Directory, for that matter. Every Citrix login makes a call to Active Directory, so a Monday morning boot storm can send a formidable spike in AD queries against your domain controller.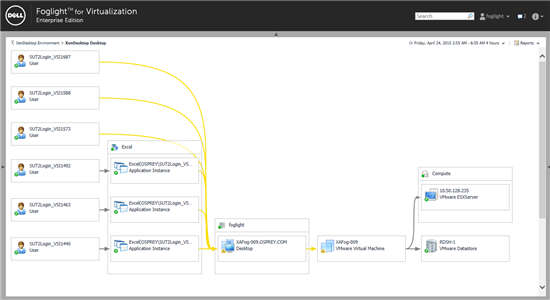 Citrix VDI performance monitoring with Foglight — New tech brief
We've designed Foglight for Virtualization as a perfect fit for Citrix XenDesktop and XenApp.
Our latest version, Foglight for Virtualization 8.2, gives Citrix administrators a complete view of all levels in the environment, from the quality of the user experience down to the spare CPU capacity in your hardware. You can drill down into any level and examine the factors that affect performance like dependencies, resource utilization, virtual machines, network latency and number of user sessions.
See What's New in Foglight for Virtualization 8.2 >>