Webster defines collaboration as: "to work jointly with others or together as a team especially in an intellectual endeavour," and "to cooperate with a group with which one is not immediately connected." (There's an additional definition, "to cooperate with or willingly assist an enemy," but that's a topic for a whole different blog.J)
In our world of databases, collaboration is about teamwork, relationships, collective efforts, common goals and communication. It means joining forces to solve complex problems, working together to divert potential threats and teaming up to create positive outcome.
At Dell, we understand the need for DBAs to collaborate closely with their IT counterparts.
In fact, collaboration among teams is one of the primary reasons IT organizations deploy Foglight for Databases products. Foglight for Databases supports Oracle, SQL Server, DB2, Sybase and other databases all in a single view and it monitors up the stack to provide visibility into applications and infrastructure performance.
With Foglight, you can consolidate and standardize database performance management across your diverse multi-platform environments—even if you use native or third-party tools. You'll gain valuable insight into all areas around database resources, workload analytics and change tracking, giving you a complete picture of your environment. What's more, you can communicate your findings using dashboards and reports that are meaningful and convincing to others in your organization. So you can foster collaboration among teams to find and fix issues before they put your database at risk. As a result, you'll help improve service levels and reduce costs.
Imagine what a DBA MVP you can be!
As an Oracle DBA, you won't find a better place than Collaborate 16 to learn about products that promote teamwork. This conference provides a ton of opportunities to interact with your peers and gather insight on how to make the most of your Oracle investments.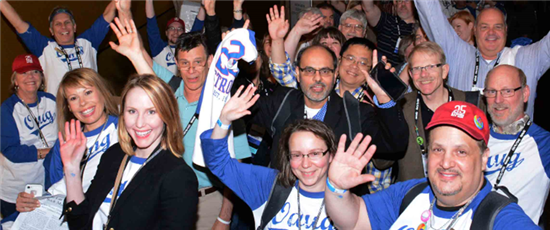 Collaborate 16 is the place to be this spring.
It's where more than 5,500 Oracle users and community members gather to share information and get energized so they can achieve great results together. And it's in Vegas, baby, at the Mandalay Bay, April 10-14, 2016. We encourage you to experience this action-packed 4½ days. You'll find answers to your questions, participate in educational sessions, learn about new product innovations and network with like-minded IT professionals.
It's all about time, and in your world, minutes matter.
So make the most of them while at the conference. A great way to do that is to attend the information-packed sessions at which Quest experts Pini Dibask and Clay Jackson will share their insights on how Foglight for Oracle can help database professionals like you slash problem resolution time from hours to minutes. You'll shrink the number and duration of delays and downtime across your entire database infrastructure. By the way, be sure to stop by the Dell booth (#1109) in the exhibit hall to see Foglight for Oracle in action.
Collaborate 16 is truly collaboration at its finest.
Register today and use our priority code "dellatreg16".