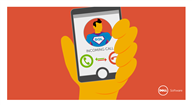 Your database environment has been carefully mapped with assets accounted. And now a thoughtful, comprehensive backup and recovery strategy, as outlined in the latest post "2015 Priority – Better Backup and Recovery For the DBA", is in place. To reach the highest levels of optimization and ensure that stakeholders understand the work that's been done to get to current state, proactive communication about database performance and ongoing management needs is key.
The final chapter of "The Essential DBA Playbook for Optimized SQL Server Management" outlines best practices for essential IT department-wide communication. Good communication begins with establishing good relationships – keeping management and colleagues abreast of the health, status and ongoing priorities in managing the environment. Spend time to develop a report structure that alerts managers to issues while also calling attention to performance improvements.
Beyond communication – a soft skill all DBAs should master - there are three steps for ongoing SQL Server management optimization:
Stabilize the environment: Too often DBAs find themselves in crisis mode, trying to fix issues. If you've followed the DBA Playbook, then you should be confident that your environment's most immediate threats have been addressed and that your data is recoverable. Use this time to switch thinking from reactive to proactive mode.
Baseline and benchmark methodology: A baseline and benchmark methodology helps you spot problems and engage in a process of continuous improvement. For deep insight into baseline best practices, check out this white paper, "Top 10 Tips for Optimizing SQL Server Performance."
Deploy code: Institute best practices on how you introduce new code into the environment. Every organization has its unique demands but a good code deployment protocol has:
Formal review
A defined testing step (in a testing environment)
A step for discussing and tweaking problematic code
Guidelines about when a rollback will be instituted and how that can be performed.
To learn more about how to become a database management champion, read the final installment of the Essential DBA Playbook for Optimized SQL Server Management eBook here.