We're occasionally asked by customers to compare our Foglight for Storage Management (FSM) product against the Storage Manager product from SolarWinds. In this BLOG, I want to highlight some of the differences between the two offerings.
One focus area when comparing FSM vs SolarWinds is topology mapping. Lack of visibility behind logical datastores into the physical storage subsystem is one of the top frustrations expressed by VM admins. Both FSM and SolarWinds enable topology mapping, but only FSM gives a true end-to-end view from VM-to-LUN. As you can see in the following picture, FSM maps the entire storage topology, connecting VM, datastore, disk extent, HBA ports, switch ports, array ports, array controller, and LUN.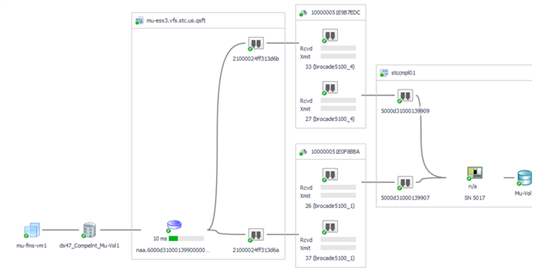 SolarWinds supports extremely limited, table-based (not graphical) topology mapping. For a specific host, they basically can only tell you the name of the switch and storage array connected to it. This makes for an incomplete picture of the topology.

Another focus area when comparing FSM vs SolarWinds is the ability to zoom back into the past to analyze the storage environment when debugging VM performance issues. With FSM, we give you the ability to dive into a very granular sliver of time so you can see what was happening in the environment when a performance issue was first reported. For example, you can look back into a one-hour time interval at any time in the past to review LUN activity on a particular array.

SolarWinds, on the other hand, limits your historical views into steps of six hours, one day, one week, one month, etc. Obviously, this is not very useful when trying to debug issues that occurred in the past.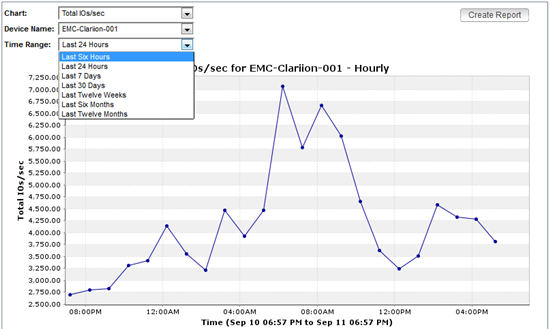 Finally, FSM includes an industry-unique Storage Troubleshooting feature that analyzes data from the host servers, fabric, and storage arrays to quickly pinpoint performance bottlenecks affecting VMs. You can learn more about this feature in my previous BLOG. SolarWinds doesn't offer any such capability for troubleshooting VM performance issues originating in physical storage.

For more information about Foglight for Storage Management, visit our website at https://www.quest.com/products/foglight-for-storage-management/.