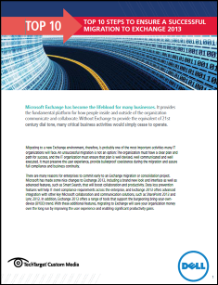 Whether upgrading a legacy environment, migrating from a non-Microsoft platform or undertaking an Exchange consolidation project due to a merger or an acquisition, the question for you might not be whether to migrate to Exchange 2013, but how to begin and what steps to take to ensure a smooth, successful and cost-efficient migration.
Remember that migrating to a new Exchange environment can be one of the most important activities you will take on this year. It is vital for every organization to have a clearly defined plan prior to beginning on the migration so Dell has sponsored a new whitepaper titled, Top 10 Steps to ensure a Successful Migration to Exchange 2013 to help you get your project rolling.
Here are the 10 steps to ensure a successful migration to Exchange 2013:
Step #1. Define your environment.
Step #2. Do a full assessment.
Step #3. Prepare – everyone and everything.
Step #4. Build an asset management plan.
Step #5. Manage for compliance.
Step #6. Make sure you have a recovery solution.
Step #7. Focus on Active Directory cleanup.
Step #8. Don't forget about identity management.
Step #9. Consider the cloud.
Step #10. Choose the right partner
Why wait? Start planning now for your Exchange 2013 migration today – for a detailed explanation of the 10 steps click here to download the new whitepaper, Top 10 Steps to ensure a Successful Migration to Exchange 2013.