Recently, Quest commissioned Dimensional Research to survey IT professionals responsible for Lync administration to gauge their Lync deployment adoption challenges and cost savings. Here's what we found related to cost savings expectations:
Quest Lync Adoption and Challenges survey results in the news:
80% hoped to save on their travel budgets
76% hoped to reduce costs of other web and teleconferencing tools
66% hoped to reduce meeting room space costs
55% hoped to reduce spending on traditional telephony costs (e.g. desk phones)
36% hoped to reduce email expenses
52% don't know if their company has met these cost savings goals
69% can't easily report on these cost savings of a Lync deployment
A majority of the individuals surveyed are unable to say if deploying Lync has in fact enabled them to save costs over travel, other web and teleconference tools, traditional telephony and more. That's troubling news considering how costly a Lync deployment can be and how organizations NEED to show a return on investment.
Where's the ROI?
Implementing Lync in an organization is a big investment
Consultants to manage the project and help with the implementation
Hardware, IP phones, gateways to legacy systems, PSTN lines
Windows server OS licenses for Lync
SQL server and Exchange Unified Messaging Servers
The use of Microsoft Lync is growing significantly within most organizations today, and raises important questions for the IT department.
How can the costs of the implementation be justified?
Is the organization leveraging Lync to its full potential?
How can we even answer these questions?
When issues arise, such as how much server and software licenses will cost, or how much time and money will be spent on testing and end-user training, it's critical to ensure you're making the most of your investment.
Lync Usage and Trend Reporting to Show ROI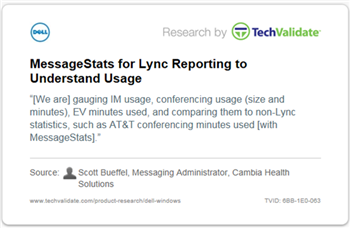 With MessageStats for Lync, Quest's solution for Unified Communications reporting and analysis, you can answer the many questions that complicate a Microsoft Lync deployment. From gauging the adoption of Lync in your organization, to seeing which features are being used and which aren't, MessageStats reveals the statistics behind what your users are doing with this growing platform and helps you determine ROI.
Using these reports, you can decide where an investment in Lync training makes sense and discover how many users in your environment are using Lync's services, such as virtual conferencing, as opposed to older or more traditional methods, like in-person meetings.
To learn more about how MessageStats for Lync can help you understand the use of Microsoft Lync in your environment, read this technical brief: Anyone in There? Measuring Usage and ROI of Microsoft Lync Server for Upper Management
Or attend a webcast with Paul Robichaux, senior contributing editor for Windows IT Pro and a Microsoft Exchange Server MVP, and Dan Barker, global product manager and evangelist with Quest, on understanding Lync reporting: April 15, 2014 @ 2 p.m. ET.