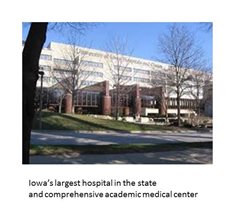 A few of us visited Dr. Cromwell at the impressive University of Iowa Hospitals and Clinics on a chilly day in late November to capture his story on video.
One of the reasons I find predictive analytics so intriguing is the sheer number and variety of use cases, relative to other technologies. It is, after all, the use cases and customer stories that bring us out of esoteric, theoretical territory and make a technology meaningful and relevant. That's why it was so inspiring to hear about the University of Iowa Hospitals and Clinics' compelling and real world use of predictive analytics.
Dr. John W. Cromwell, director of the Division of Gastrointestinal, Minimally Invasive, and Bariatric Surgery has been able to significantly lower the risk of surgical site infections for his patients using Statistica. Great example of how advanced analytics software can really move the needle in improving patient outcomes!