Over the past few months, I have been demoing and talking with customers and prospects about Foglight 5.9 APM. The last two weeks have been extra cool, as I had a chance to check in with three existing customers who have upgraded all or part of their environment to Foglight 5.9 APM. The feedback has been great—lots of talk about how this simplifies their deployments and puts the right information at their fingertips. If you haven't had a chance to check out 5.9 APM, I encourage you to watch the recorded What's New presentation (https://www.quest.com/documents/) from June.
One thing that I have noticed is that many customers are still not aware of the Cartridge for Application Operations (no additional licensing required). This cartridge contains a variety of features, but the primary function is to turn transactional data into dynamically generated run-time topologies and response time breakdowns like in the image below. If you are a Foglight customer running Java, .NET or real-user monitoring, you should really check it out.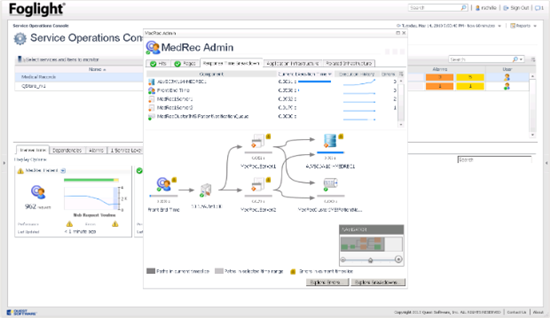 I love talking with customers about these features, so if you have question or want to talk with me about 5.9 please reach out to me at richard.schiller@software.dell.com.