Organizations are spending millions of dollars assessing, installing, deploying and maintaining unified communications (UC) solutions in order to improve collaboration while controlling costs. This is a wise strategy: research demonstrates that replacing disparate communication technologies from multiple vendors, such as aging PBX systems, handsets and conferencing platforms, with an integrated single-vendor solution like Microsoft Lync can offer significant cost savings while simplifying day-to-day communications for both end users and system administrators. Specifically, a 2013 Forrester Total Economic Impact Study reports the following results:
Replacing private branch exchange (PBX) telephone systems and web conferencing solutions delivered savings of roughly $1.3 million.
Reduced telephony costs that included international and conference calls were estimated at nearly $1.7 million.
Staffing optimization including a reduction in help desk resources, PBX admins and contractor usage resulted in savings of $3.9 million.
Internal labor savings were estimated at $1.5 million over three years.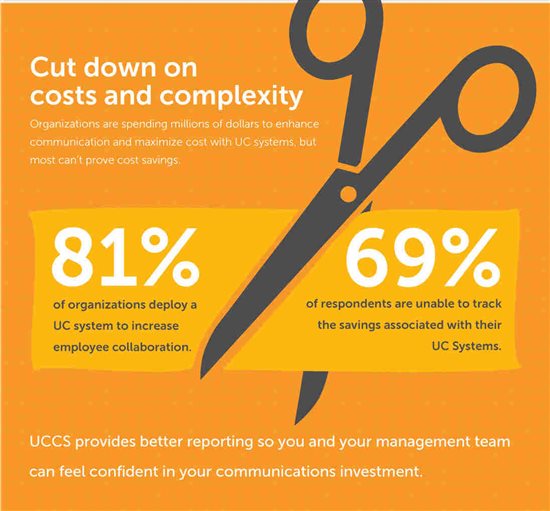 Unfortunately, however, native tools do not provide the cross-platform reporting and analysis organizations need to track their UC adoption rates and savings, nor do they offer a way to charge back the cost of the use of IT resources to specific departments or business units. In fact, a full 69 percent of organizations say they do not have the reporting they need to determine whether their UC systems are meeting their cost-savings goals.
In my previous blog post, I explained how Dell Unified Communications Command Suite (UCCS) can help you keep your UC environment healthy and available. But UCCS goes much further than that — it delivers the insight you need into system performance, communication consumption, workforce activity and more, so you can accurately measure — and then maximize — the return on your UC investment. And UCCS is the only suite on the market that offers both analytics and diagnostics across Microsoft Exchange and Lync.
The first step in assessing ROI is to track adoption rates. UCCS enables you to not only document but also to analyze in depth the adoption rates for each component of your UC solution. You can see the adoption rates of the various Lync session types among users as the deployment moves from pilot to enterprise rollout. You can also compare Lync usage with ongoing use of your legacy phone, conferencing and collaboration platforms.
Equally important, UCCS provides quality of experience (QoE) reporting for your entire UC deployment, across offices, departments, geographical areas, devices and network connectivity methods. For example, you can see which network types are most associated with poor call quality, so you can not only measure adoption rates but actually improve the user experience — thereby increasing user adoption and your return on investment.
UCCS also enables you to trend and forecast user and server usage, so you can anticipate the growth of your UC ecosystem and plan for additional resources and infrastructure as you decommission your traditional communications platforms — ensuring that you can maintain the QoE and continued user adoption that drives ROI. For example, if a large number of voice calls are being made to the UK from North America, you might want to replace your traditional PBX with a VoIP gateway in the UK.
Finally, UCCS enables appropriate billing and chargebacks by providing custom usage reports. For example, you can assign a cost per session (IM, audio call, video call, voice call and so on) and type (such as internal, external, federated, long distance or toll-free), and UCCS will calculate the totals per department or region. This transparency into UC usage and costs gives your organization the insight you need to ensure the goals of your UC investment are being met.
To learn more about how UCCS helps you cut down on costs and complexity, see the Dell whitepaper, "How to Measure Unified Communications Utilization and ROI for Upper Management." And be sure to read my next blog post to see how UCCS can ease everyday pain points by enabling administrators to detect, investigate and resolve problems across the entire messaging environment, all from a single easy-to-use interface.