When it comes to working with other teams in your IT department, do you ever feel like your coworkers are from another planet? In a lot of ways, they may as well be.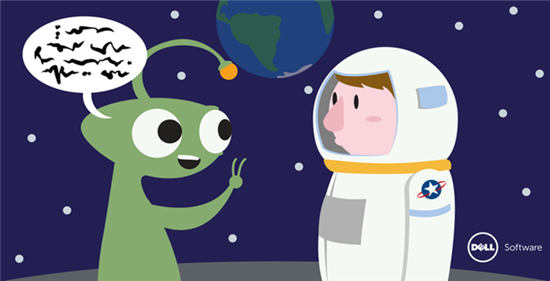 That's because everyone's using their own disparate tools, looking at their own data and analyzing only how an issue affects their little corner of the IT universe. While this practice is common, it's certainly not efficient. It leads to a lot of cumbersome back and forth, resulting in additional confusion.
So, if you've ever felt like shouting, "Sorry, DevOps, but I don't speak Klingon!" you should know you're not alone ― and there's a much faster and easier way to investigate and understand the root cause of a performance issue.
Ovum Report Findings
In a new third-party report from Ovum, Principal Analyst Ron Illsley notes the importance of standardizing on a SQL Server monitoring and virtualization management toolset that provides a common language. Illsley makes a strong case for implementing a universal approach to sharing and understanding data. He shows how this allows the entire IT organization to quickly and easily grasp the big picture ― and how this all-encompassing, single version of the truth dramatically accelerates issue resolution in both the physical and the virtual environment.
But the really cool benefit of this approach to working with Microsoft SQL Server is how it'll free up your time. So not only will you ensure high availability and peak performance with far less effort than ever before, but you'll also finally get to focus on those other projects you've put on the backburner.
Do More for You
Just imagine how much more you could do for yourself, your company and your career with the power to eliminate the tedious, old school way of investigating issues. To learn more about how the right tools can help you and your coworkers better communicate, resolve issues faster and spend more time on high-value projects, read the Ovum report today.