I was asked a few months back to manage the server virtualization presence for Quest at Microsoft Tech-Ed in Atlanta. I was excited to be a part of such an important show for the company, but at the same time was hesitant that my product focus, (server virtualization management) particularly vFoglight would not receive the awareness and interest from the Tech-Ed audience.
Boy, was I wrong! I was just amazed at the traffic and level of engagement at the vFoglight pod, infact we talked to more customers with deep interest for performance management and monitoring for VMware and Hyper-V alike, as well as the desire for a storage monitoring solution for virtual environments. I think what surprised me the most was that the majority of the attendees we spoke to showed a keen interest in the vFoglight solutions, not just there to get the free give aways!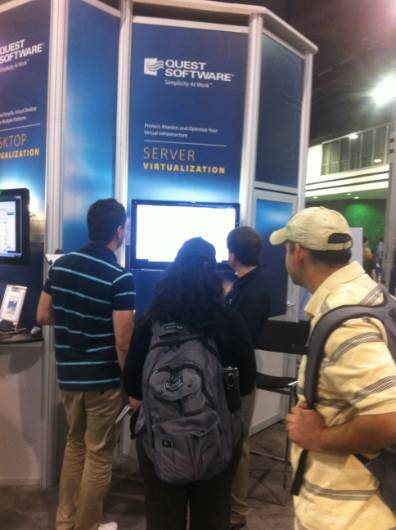 I noted some of the common conversations we received while on "booth duty", all were easily demonstrated live with vFoglight!
Common thread one: Looking for a solution that presents aggregated data in a simplified dashboard for VMware and Hyper-V that is easy to navigate with drill down capabilities to the problem areas, offering guidance, advice and tools to repair the problem quickly.
Demo: vFoglight user interface with color- coded and animated objects, alerts with expert advice and user initiated automated remediation.
Common thread two:Visibility into the storage layer beyond the data store. Understanding the impact of storage from the VM to the physical "spinning disk"
Demo: vFoglightStorage, visibility from the VM/data store to the physical disk – presenting the data required to troubleshoot & repair.
Common thread three:Easy to understand environmental change analysis
Demo: vFoglight change analytics understands what changes occurred against its impact on performance, showing a deeper level of troubleshooting that understand a customer's unique environment.
Common thread three:Deep visibility into the virtualized Active Directory infrastructure.
Demo: vFoglight with Foglight for Active Directory add-on cartridge. Monitor and troubleshoot AD objects in-context to the underlying physical and/or virtual environment.
Again, I was pleasantly surprised at the level of interest in Quest technology on the show floor, but also at the quality and variety of technical sessions offered throughout the week. See you next year in Tech-Ed Orlando!