Whether moving content from legacy SharePoint sites and Windows files shares into a new SharePoint or Office 365 environment, or reorganizing content within an existing site, there's no quick and easy way for site owners and power users to move and classify their documents, items and files. Moving content natively brings on added risks like lost data fidelity, including metadata and versioning, and requires elevated permissions that give too much power to users.
That's why all of us at Quest are excited to announce the launch of our newest SharePoint product—Content Migrator for SharePoint.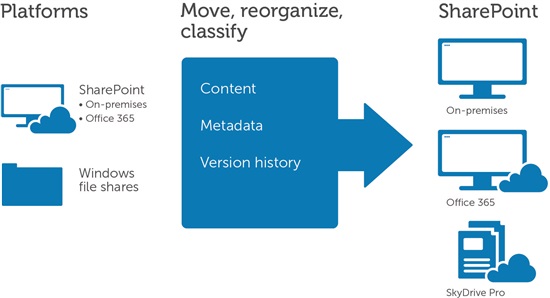 Content Migrator for SharePoint is an easy-to-use, agentless tool that installs in less than five minutes and helps site owners and power users to:
Move and classify their own content confidently and without posing risk to the environment, reducing the burden on IT.
Move documents, items and folders in bulk quickly and easily to SharePoint, Office 365 and SkyDrive Pro, without data loss, downtime or business disruption
Copy and reorganize content across SharePoint to simplify information access, optimize storage and meet the evolving needs of their business
Easily import files from their Window network drives and classify imported content to unlock the full potential of SharePoint search and navigation
Preserve, reassign and add metadata to content as its moved to make information easier to find and enhance its business value
The beauty of Content Migrator for SharePoint is that it is purpose-built for moving and classifying content, and priced appropriately. IT admins and project managers can empower site owners with confidence, knowing that site owners can manage their own content without any risk to your infrastructure or server configuration.
Content Migrator was developed by the same team that brought you Migration Suite for SharePoint, Quest's solution for managing enterprise migrations of entire SharePoint environments, including sites, metadata, permissions, workflows, web parts, InfoPath forms, as well as Windows file shares, Google Drive and Exchange public folders. The tools can be used together (i.e. Migration Suite used by IT for the larger, enterprise project and Content Migrator used by site owners to move/upload/classify their own content) or independently from each other.
Check out the short videos below to see the product in action!
Move and classify content with Content Migrator for SharePoint
Copy and reorganize content with Content Migrator for SharePoint
Upload Windows files and folders with Content Migrator for SharePoint
Whether you are in IT or manage your own site, we invite you to try Content Migrator for SharePoint today. You can easily install it on any Windows client, and can be up and running in five minutes or less! If you want to learn more, the user guide, release notes and datasheet are attached at the bottom of this blog post.
Download a free trial of Content Migrator for SharePoint today.