Understanding the architecture that supports Internet of Things (IoT) projects at first glance can seem overwhelming if not impossible to emulate. There is a wide array of technologies that support these projects and help customers to wrangle the data involved in these programs. Data management, integration and analytics all play a key role in delivering innovative and responsive IoT projects.
Enterprise Management Associates (EMA) recently authored a white paper titled Demystifying the Internet of Things: Implementing IoT Solutions. The paper explores the necessary strategies to implement a project and also highlights some of the solutions that Dell provides its customer to support these projects. EMA identified the most popular data sources that companies are utilizing for IoT projects. (See figure below)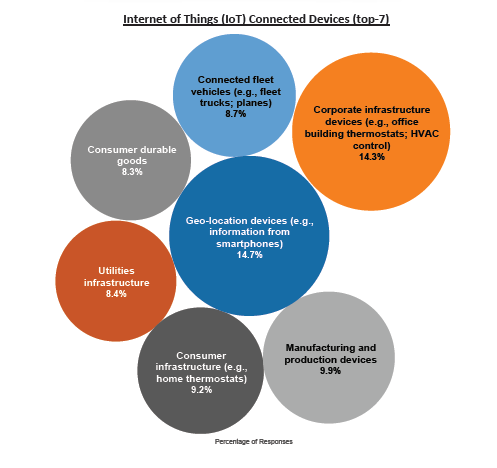 Geo-location devices are the most popular representing 14.7% of the projects researched by EMA but with that said its clear there is a wide variety of opportunities ranging from Corporate infrastructure data, manufacturing data and consumer infrastructure just to name a few. EMA's paper explores the challenges of integrating, replication, analyzing and securing a responsive environment that moves at the speed of the business to support greater business insights and enable action. Companies adopting IoT can benefit greatly from a smarter view of their business and create competitive differentiation by using this technology. Download a copy of the full paper here and share your thoughts on IoT with me. I'd like to hear how your company is taking advantage of this new and innovative approach to data.