A new version of Deployment Manager for SharePoint is now available for download: http://www.quest.com/common/registration.aspx?requestdefid=34570.
The biggest improvement of Deployment Manager 2.1 is the updated Solutions Manager tool, which extends its SharePoint solutions lifecycle management capabilities even more:
· New Support for SharePoint 2007
· New Import Solutions from SharePoint
· Improved Farm Solutions Report
· New Solution Explorer
Now let's look at each new feature in more detail:
Support for SharePoint 2007
There are a lot of companies that happily run SharePoint 2007 today. It would not be fair if we left them out! With the updated Solutions Manager, you can deploy, upgrade and monitor solution packages on farms and servers running SharePoint 2007. This includes Microsoft Office SharePoint Server 2007 and Windows SharePoint Services 3.0. Both SharePoint 2007 and 2010 can be managed at the same time in the application.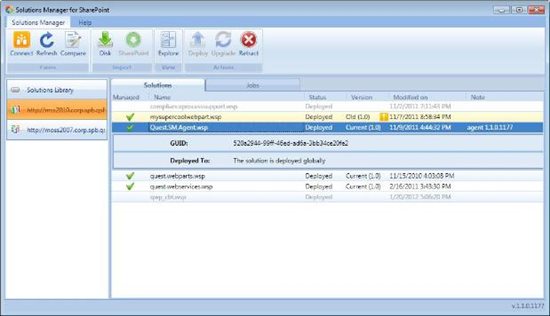 Import Solutions from SharePoint
This was the top feature request after Solutions Manager 1.0 was released– in addition to importing solution packages from disk, one should be able to import WSPs deployed on SharePoint farms right into the Solutions Library. The customers spoke – we listened. Just select an unmanaged solution from the farm's Solution Store and click Import from SharePoint!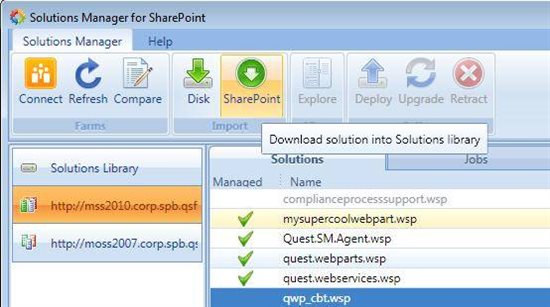 Improved Farm Solutions Report
The Farm Solution report shows you the status of all solution packages across multiple farms at a glance. It is only natural to initiate deployment tasks right from the report, e.g. when you see that a particular farm has an old version of your business critical SharePoint application. This is exactly what the new version allows you to do: you can deploy, upgrade or retract solutions instantly or schedule the task. You can even export a report to a PDF file!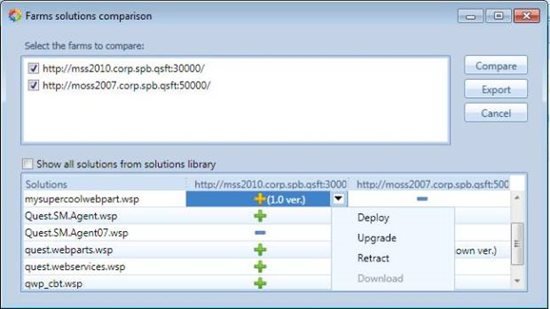 Solution Explorer
Ever wondered what is inside a WSP solution package? Well, with the new version of Solutions Manager you can. The new Solution Explorer feature reveals both logical and file contents of a WSP package to help you understand what exactly each solution installs when deployed.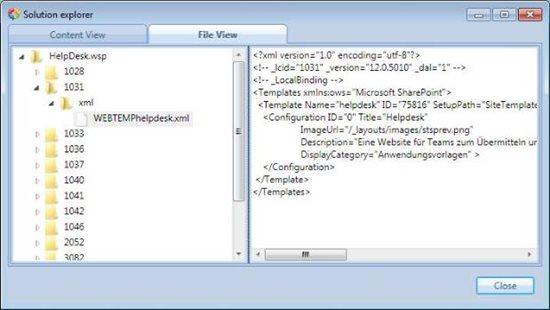 Upgrading to Deployment Manager 2.1
In order to upgrade to the new version, you will need to remove Deployment Manager/Solutions Manager that are currently on your computer and then apply the new versions from the download. Don't you worry, the application settings will stay intact.
1. Uninstall the previous version of Deployment Manager for SharePoint.
2. Install Deployment Manager 2.1 by running the Deployment Manager setup.
3. Uninstall Solutions Manager 1.0.
4. Install the new Solutions Manager Console by running the Solutions Manager setup.
5. Update/deploy the Solutions Manager Extension Web Service on managed SharePoint farms.