Today we are announcing a factory refresh of the DL4000 Backup and Recovery Appliance. There are few cool new things the DL4000 can do now, check out the blog post on what we actually announced.
One of the new features is RASR – Rapid Appliance Self Recovery Tool. It is a utility that helps the appliance protect itself. The DL1000s already have this feature.
Here's how RASR works:
In the DL4000 console, one of the tabs available is the Appliance tab. This tab helps you do specific things to your DL4000 hardware. One of the options is to backup the appliance by creating a RASR volume, specifically creating a RASR volume on a USB drive. This volume is actually a copy of what is on the OS volume on the appliance – so Windows and AppAssure. To be specific, when I say AppAssure I'm talking about the application that ships with the DL4000, not any updates you have made via RUU, and not any of the data in the repository.
This appliance tab will actually stay yellow until you create this USB key. NAGGING YOU TO PROTECT YOURSELF. :)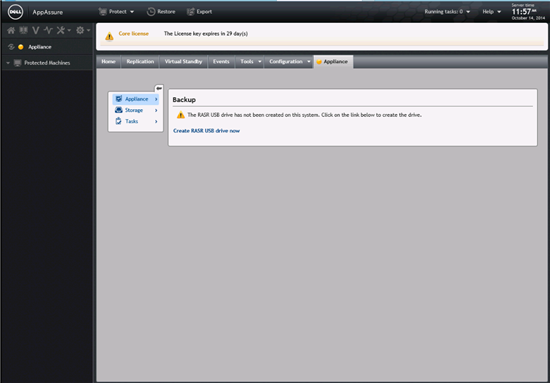 Now why would you want to do this? Well think about it, one of the great parts about purchasing the DL4000 appliances is that Windows is pre-configured, everything is sized out, and AppAssure is onboard so all you need to do is click through the easy configuration tasks. What would happen if you lost the volume that Windows and AppAssure live on? It would be a pain! You'd have to find a copy of Windows 2012, install it, go download AppAssure, install it….and the entire time you are chasing that…how are your servers being protected?
Well hopefully you are replicating them to a different AppAssure Core as a disaster recovery option, but that's a different blog post. YOU NEED TO GET YOUR CORE BACK UP AND PROTECTING SERVERS!
Since we nagged you to create that RASR USB key, you are all set. Boot from the key, restore your DL to the factory default. Reconnect to your repository, and you are protecting all that precious data again.
What do you think about this new feature?