It's 9:00 on Monday morning. Do you know where your virtual machines are?
If you don't, you're in for a long week.
Sure, you know which cluster in the data center they reside on, and maybe you know which hosts they're running on, but do you know how healthy they are? Do you know which ones have performance problems, which ones are costing you more CPU than they should and which ones have been changed recently?
My team meets with a lot of virtualization administrators working in VMware, Hyper-V, OpenStack and other environments. They tell us that they always have more questions than answers about the status of their VMs, especially in two areas:
Why do I have to work so hard for a decent overview of my virtual infrastructure?
How can we manage, track and undo changes to our virtual machines?
Our new version of Foglight for Virtualization, Enterprise Edition (FVE 8.0), answers those big questions ― and the little ones that go into them. I'll describe the features we've added in version 8.0 to address the VM questions you spend the most time researching manually.
Virtual machine dashboard
First, we've built a Getting Started dashboard onto the front of FVE 8.0 where you can't miss it and we've filled it with top-of-mind information. Look at the screenshot below to see how many questions the dashboard answers about your virtual platforms:
What are all the assets in my virtual environment? How many data centers, clusters, hosts and resource pools are we running? How many VMs are running right now? The Overall Environment Summary contains the answers to all those questions.
What needs my attention right now? In the Monitoring pane you can see the fatal or critical alarms for VMware, Hyper-V and OpenStack machines. Move those to the top of your to-do list.
How healthy are my VMs? The Virtual Machine Health pane shows you the scores of low-performing VMs so you can look into what's bogging them down.
When will I need to add resources to keep my VMs running well? The calculator in the Plan pane projects how much more CPU, memory and storage you'll need to keep your environment healthy.
How can I configure my VMs to run most efficiently? The Tune pane shows you when your VMs don't need all of the resources you've allocated to them. It gives you the Fix Now option to free up CPU, memory and storage remotely.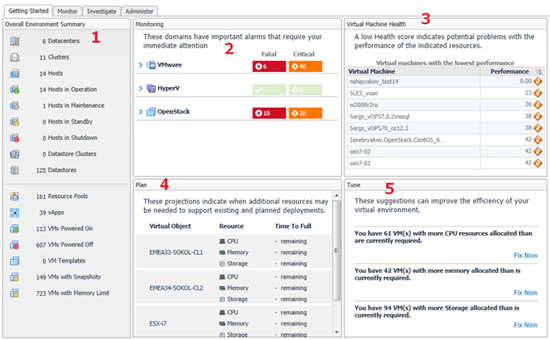 The Getting Started dashboard puts your entire virtual environment at your fingertips and shows you what needs your attention most.
Next steps
The dashboard in FVE 8.0 means that from now on you'll know where your VMs are on Monday morning at 9:00 — and 9:04 and 9:18 and so on throughout the day. It's a huge advantage for virtualization administrators trying to keep up with changes and keep ahead of problems.
In my next post I'll finish up my walk-through of FVE 8.0 with a look at our new Change Analyzer feature. Meanwhile: