DellWorld is less than a day away and there is good reason to attend the Foglight for Virtualization sessions that @VMMaxwell is little excited about.

Foglight for Storage Monitoring, providing storage monitoring 'In-context' with your virtual environment.
Over the past 10 years the datacentre has transformed, this transformation has introduced a multitude of new variables to manage and when it comes to investigating storage performance, no truer example can be found.
Imagine a heterogeneous environment running HyperV and VMware, supported by Dell Compellent with Brocade fabric switches that create an IT environment that enables a multi-billion dollar fund management business to model risk and exposure. Now imagine, trying to isolate disk contention and find the cause of competing IO across hypervisors!
With Foglight for Virtualization and Storage Management, IT teams are able to reduce the complexity of the modern datacentre and isolate storage issues across hypervisors and arrays from a single platform.
What's on show at DWUF??
At DellWorld I will be taking you through Foglight for Storage Management to highlight how you can stop the storage blame game and prevent the "My App is slow, it's the storage" finger pointing. The breakout session will focus on how to use Foglight to isolate a problem, diagnose the probable cause and highlight what steps are required to remediate the issue across a heterogeneous virtual environment.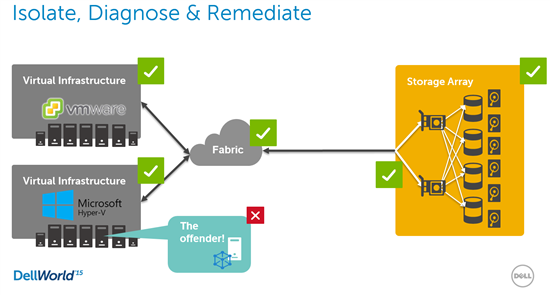 Specifically, I will go through how Foglight for Storage Management supports your needs within complex storage environments by proving an 'in-context' view across what is normally very disparate systems.
'In-Context' VM to Storage
Storage connectivity, topology, availability and performance
Storage Pool capacity planning
Disk performance
And above all, I will demonstrate how to pinpoint in a matter of clicks, what storage is shared, who is using it and how you, as the storage admin, can share this out as a self-service portal.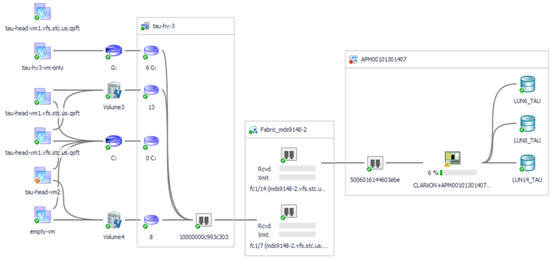 Foglight, 'In-Context' Performance Monitoring
Foglight connects to and integrates data across the enterprise, driving collaboration with a single view of the monitored environments. With Foglight for Virtualization and Storage Management you are able to isolate down to individual OS processes within a virtual machine that are cause of disk contention. By consolidating this information into a single platform, users of Foglight are able to drive greater collaboration between storage and VM administrators, reduce helpdesk tickets and create a culture that supports self-service over blame.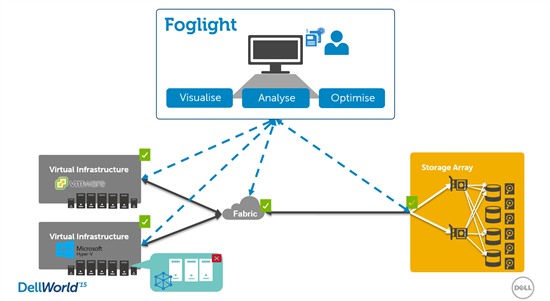 Don't forget to check out the rest for the Foglight sessions!
Foglight, virtualization-centered sessions
Monitoring Microsoft HyperV with Dell Foglight®
How to Optimize Your VMWare Virtual Environment
Change Tracking and the Impact of Changes to VMWare ESXi Performance
Taking the Guesswork out of Citrix XenDeskop and XenApp Performance Issues
Making Dell OpenManage Essentials Even Better with Dell Foglight
OpenStack Cloud Monitoring Made Easy with Dell Foglight
Capacity Planning for Virtualized Infrastructure
Connecting the dots with Dell Compellent Storage and Virtualized Infrastructure
End-to-Everything VMware Performance Monitoring with Dell Foglight