If you haven't yet noticed, @VMMaxwell is little excited about the upcoming Dell World Software User Forum and I'm going to share a little on why.

How many times have you complained, received a complaint or lost hours investigating why a user's Citrix session is slow? Only to find out that you were either looking in the wrong spot, discover you didn't have the ability to find the problem without trawling log files or your colleagues didn't share the right information.
Foglight for Citrix XenApp and XenDesktop bridges the gap between VMware admins, Citrix administrators and your business. Delivering insight into user sessions in real-time, tracking of the health of the Citirx infrastructure and provides in-context information from the supporting VMware environment.
What's on show at DWUF??
At Dell World I will be running a breakout session on using Foglight for Citrix in your environment. As a sneak peek I'll let you in on some of the content.
What is all this talk about 'in-context'?
'In-Context' performance monitoring is unique to Foglight as it collects data across the disparate systems that make up your enterprise applications. And when it comes to Citrix, it critical to understand not just the Citrix components but the supporting SQL Server, Active Directory, VMware and the network that delivers to the business.
At Dell World we will focus on three key use cases for Foglight for Citrix:
Managing ESXi contention
Assessing the impact of changes in the environment on XenApp and XenDesktop sessions
Finding an OS process hog on a XenDesktop or XenApp VM
This all builds to answer one important question, how do you isolate and solve a single user complaint?
Oh, and the delivery of applications and desktops through to the end user.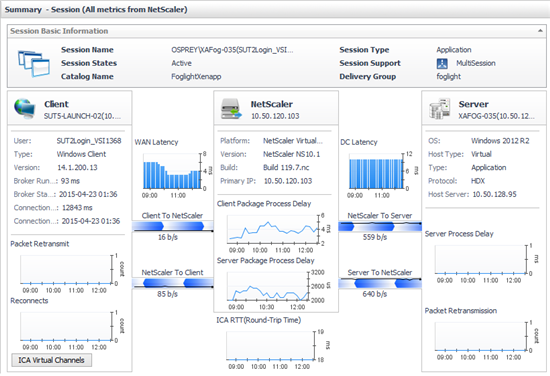 Foglight, 'In-Context' Performance Monitoring
Foglight connects to, and integrates data across the enterprise, driving collaboration with a single view of the monitored environments.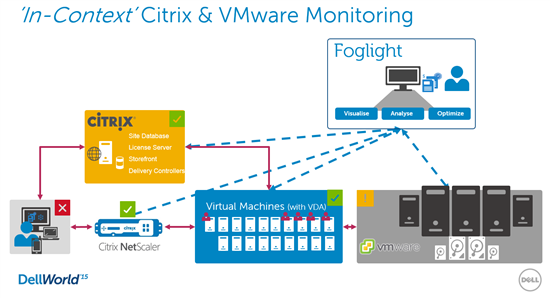 Don't forget to check out the rest for the Foglight sessions!
Foglight, virtualization-centered sessions
Monitoring Microsoft HyperV with Dell Foglight®
How to Optimize Your VMWare Virtual Environment
Change Tracking and the Impact of Changes to VMWare ESXi Performance
Taking the Guesswork out of Citrix XenDeskop and XenApp Performance Issues
Making Dell OpenManage Essentials Even Better with Dell Foglight
OpenStack Cloud Monitoring Made Easy with Dell Foglight
Capacity Planning for Virtualized Infrastructure
Connecting the dots with Dell Compellent Storage and Virtualized Infrastructure
End-to-Everything VMware Performance Monitoring with Dell Foglight