Although I head up Quest's SharePoint business, I rarely speak directly about our products. But I'll make an exception today. If you've followed any of our series on SharePoint Governance, you've probably heard me say, many, many, many times:
"Governance is a process – not a document, and not a product…products can help, but in the end it's a people centered process."
Well, help is here. This week, Quest (formerly Quest) released Site Administrator for SharePoint 5.0.
For years, Site Administrator has taken the lead in action-based reports to allow visibility and management of SharePoint farms, content, security, and structure. We've pioneered the use of the lightweight web-based Info Portal to deliver fast performance and enterprise-class scale, and we've been heartened by the success of version 4.5.
But Site Admin 5.0 (SASP5!) is a great leap forward. Three reasons:
Governance
There's a natural evolution of SharePoint oversight – from awareness of an issue, to taking action, and finally to enforcement. Site Admin's been a great tool for using reports to discover issues, and take action directly from reports. Now, in 5.0, you can establish policies in Info Portal for security and content management. Don't just fix the issues – prevent them!
Dashboards
We've always had a lot of reports in Site Admin. In SASP5, we've centralized all that information in role-based dashboards for:
Security dashboard – Ensure your SharePoint is secure from potential risks like rights being granted to everyone or broken permissions inheritance.
Content management dashboard – Manage your SharePoint content growth through version settings.
User activity dashboard – Report on and analyze user activity across your environment for a comprehensive view of SharePoint usage.
IT infrastructure dashboard – Discover your SharePoint infrastructure including content size and growth, topology, server roles, services and disk space, health, space distribution, etc. (see below for an example of this dashboard)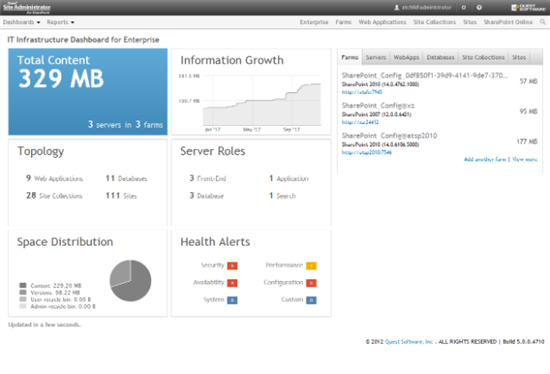 IT Infrastructure Dashboard
Interface
Why should Microsoft have all the fun this year with clean, bespoke user experiences? We're really proud of taking all this power and putting in a package that delights our users. Sexy and smart!
As you can probably tell, I'm really proud of this one! So download a trial copy of Site Administrator 5.0 today and let us know how you like it – because there's still more to come! Thanks.