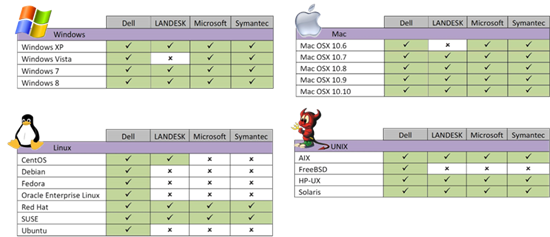 Variety, they say, is the spice of life. But too much spice can lead to heartburn.
That's the challenge facing most IT administrators today: they must manage not just a few familiar platforms but hundreds or thousands of computers and servers running multiple versions of Windows, Mac OS X, UNIX, Linux, and, more recently, Chrome OS. In such complex heterogeneous environments, everyday tasks — like keeping track of all hardware and software, making sure you are in compliance with applicable regulations and licensing agreements, maintaining security, and providing exceptional support — become increasingly difficult.
Effective Systems Management Across Multiple Operating Systems
In my last post, I introduced "Best Practices in Lifecycle Management," a research paper from Enterprise Management Associates, Inc. (EMA), which evaluates the four most popular systems lifecycle management solutions on the market:
KACE K1000 Systems Management and K2000 Systems Deployment Appliances
LANDESK Management Suite 9.6 SP1
Microsoft System Center 2012 R2 Configuration Manager (SCCM)
Symantec Altiris Client Management Suite (CMS) 7.5 SP1
In addition to the detailed functional comparison I mentioned in my last post, the paper provides an extremely valuable chart (shown above) that identifies which specific Windows, Mac, Linux and Unix platforms each solution supports. Only Dell KACE appliances cover every version and flavor listed. If you spend your workday managing a multi-platform environment, then you'll find EMA's checklist a valuable resource in preparing for your next investment in a systems lifecycle management product.
Get all the details by downloading your free copy of the EMA report.