How much time does your company's IT team spend firefighting? Too much, of course. But couldn't that time be better spent ending the daily firefighting of manual backup checks, regular library cycling, deleting orphaned snapshots?
For data protection, ending the firefighting requires having automated, reliable backups you know are good, being able to quickly restore a single document, recover from a major disaster, and much more. Invest the time now to get these things right. You'll save time and stress in the future by minimizing or even removing the firefights.
To help organizations achieve this critical goal, Quest invited two IT specialists with a broad range of industry experience to provide their insights about data protection: Scott Millis, chief technology officer at CyberadAPT, and Carl Vogel, director of IT for Iowa Select Farms. These are people that have faced and conquered many of the challenges your company's IT team faces daily.
In the linked white paper, which is the first instalment in a multi-part series on ending the firefighting in data protection, Scott and Carl explain how data protection needs have evolved in recent years and recommend strategies for addressing your organization's requirements today.
Understanding current data protection realities is the first step in ending the firefighting. The whitepaper discusses the biggest challenges today. These include data volumes that are growing quickly while IT staffing levels remain fairly static and user expectations around backup and recovery that are higher than ever. The whitepaper shows real-world strategies of Scott and Carl, and techniques that have worked for them. Do take a look. They will be valuable to you as well.
Be sure to read the next paper in this series, where Carl and Scott turn their attention to the administrative challenges of effective data protection and offer their strategies for enabling IT to keep systems and data safe.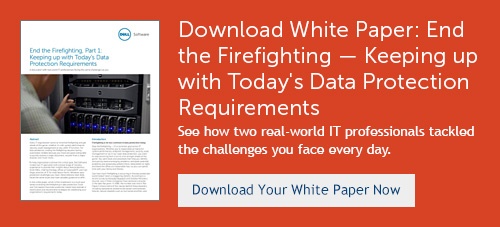 4336.it_5F00_engeneer_5F00_talking_5F00_by_5F00_phone_5F00_at_5F00_network_5F00_room_5F005F00_1444752029_5F00_58065.jpg