In his previous post, Ruslan provided an overview of the Enterprise Reporter Credential Manager. In this post, we'll be expanding on that topic and discussing the use of alternate credentials.
When running discoveries, you can use alternate credentials to expose additional domains that may be untrusted or may have a one-way trust with the domain where Enterprise Reporter is installed. When you provide the credentials of an account that has access to these other domains, you gain the flexibility to gather information that may otherwise be unattainable.
To select scopes from other domains using alternate credentials
Create a new discovery or edit an existing discovery.
On the first step of the discovery, select Use alternate credentials.
If you do not want to use the account that displays, click the button to locate a different account.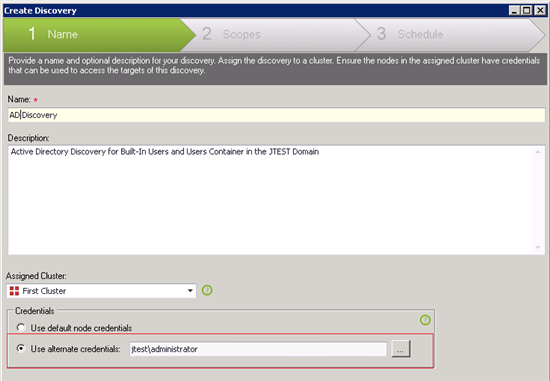 If you have used alternate credentials on a discovery and your resolution task fails, ensure that you have administrator rights on all node host computers in the assigned cluster.
When you are prompted to select scopes in the next step, you will now have the option to select scopes from all of the domains available to the default account and the alternate account.

For further information on discovery setup and scope selection, please see the Configuration Manager User Guide. Be sure to tune in next time when we will be discussing how a shared data location can be used to speed up data collection.