In our previous series of blog posts, the Enterprise Reporter Team shared some Setup and Configuration tips and hints. In the next series of blog posts, we will be exploring more details about running reports in Enterprise Reporter. The Report Manager is used to generate reports to present or summarize data collected by the Enterprise Reporter Configuration Manager. You can run existing reports from the report library and published reports, or you can create your own custom reports.
To start the Report Manager
Click the Start menu and select All Programs|Dell|Enterprise Reporter|Report Manager.
Type the name of the Enterprise Reporter server.
OR -
Click Browse, and locate the computer where the server is installed.
To connect to the database using SQL credentials, instead of the logged in user, click Advanced, then choose SQL Server® Authentication and enter your user name and password.
If necessary, type in the port number.
Click Connect.
Explaining My Reports, Published Reports, and the Report Library
Enterprise Reporter has three different report containers, each with its own intended use. They are shown in the treeview of the console. Each container can be expanded to show the categories and reports it contains.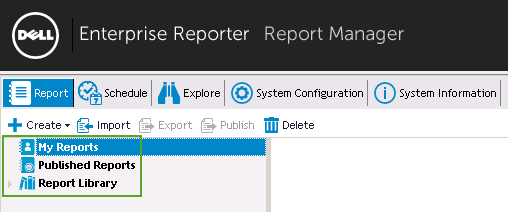 What is the Report Library?
The Library is only visible to reporting administrators. It contains all available pre-defined reports included with Enterprise Reporter, organized by type of discovery. Reports in the library cannot be modified or moved, so you need to first copy them to My Reports if you would like to work with them. These reports can serve as the basis for your published reports.
To view all pre-defined reports, expand the Report Library and each of its category folders.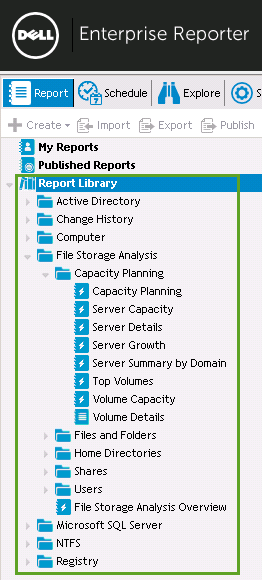 What are Published Reports?
Reporting administrators can publish reports that will be useful to their users. When a report is added to the Published Reports container, it is visible to all reporting users the next time they open their console. These reports are generally customized to suit your environment. You can base a published report on a report from the library, or you can create a new report and publish it. To prevent users from accidentally running an unfinished report, you cannot create or edit reports directly in Published Reports. You cannot modify published reports, but you can fill in the parameters and run them.
In this example, the Capacity Planning reports have all been published.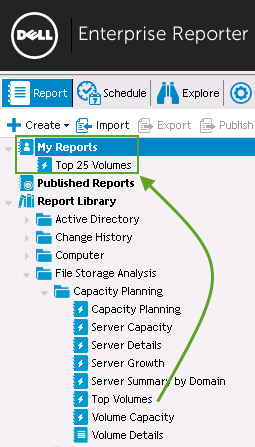 What are My Reports?
As you use Enterprise Reporter, you will find that there are reports that you use a lot, or reports that you want to customize. You can store these in the My Reports container. You decide what reports appear in My Reports by copying them from other containers or by creating them from scratch. My Reports is unique to each user, so different users will have different contents in their My Reports container. You can see your My Reports container on any computer that you are logged in to. You can create your own categories to keep these reports organized for easy access. Reports in this container are the only reports you can schedule.
In this example, the Top Volumes report has been copied to My Reports and modified to display the top 25 volumes.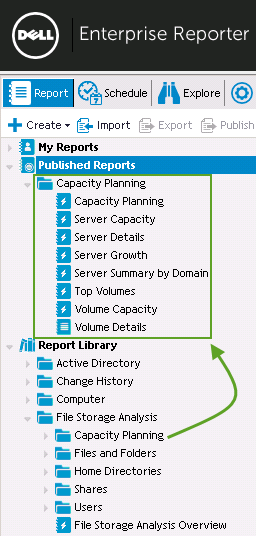 For further information on the Report Manager and working with reports, see The Report Manager User Guide.
In the next post, Clarence will explain how to have all of the reports on a schedule delivered by email.