It's been a week since I unpacked from my trip to Copenhagen and the 2013 European SharePoint Conference. Over 1400 attendees enjoyed the mild weather (for New England) and charms of Scandinavia. Including herring! After a brief 2 ½ day delay because of the blizzard here in the Northeastern US, it's good to be home.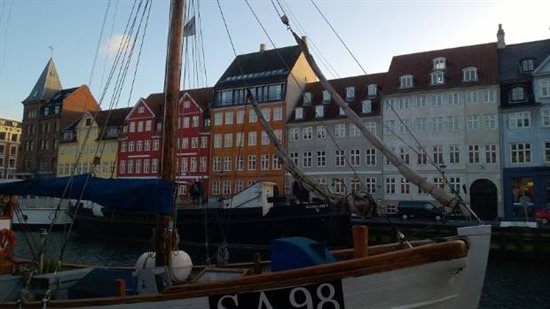 SA98, from Flickr© 2013 Christopher F. McNulty
There were some key themes that kept surfacing throughout discussions with delegates, speakers and event staff. One key discussion point was Office 365. It's clearly a major theme for Microsoft this year, and beyond. What does this mean, though, for the lowly 150 million or so users of on premises SharePoint? Is Microsoft moving away from traditional SharePoint?
In my opinion, no. Microsoft has committed to rolling out more frequent updates and releases, many of these starting first with the cloud. But it's important to remember that the on-premises product is the basis for offering SharePoint Online in Office 365. Moving the traditional product forward is the way to advance the cloud experience, too.
A second topic of discussion was security complexity. Security continues to be a key subject for governance in SharePoint 2013. In addition to the ongoing expansion of SharePoint's content capacity, the double whammy of social sites and social sharing will expose implementation with poor security governance. A possible approach is classification. Whether content is automatically or manually classified by sensitivity, privacy, etc., several delegates advanced the hypothesis that classification leads to more consistent security than deriving autonomous, independent access rights for each separate piece of content.
Picked up a few pros and cons on SharePoint workflow from Mike Fitzmaurice (@mikefitz) from Nintex:
Bad uses of SharePoint Workflow
Transaction oriented processes
Application to application service
Aggressive data transformation
Non SharePoint workloads
Blocking or modifying activity
Good approaches for SharePoint Workflow
State workflows, introduced in 2013, can help!
Use metadata to do the work instead of hardcoding URLs, names, etc.
Quest at the Conference
Quest had the pleasure of being a Platinum Sponsor at the conference. I hosted two breakout sessions – one on upgrading custom solutions with our Quest case study partner from Golder Associates, Kim Forchhammer. (Thanks again, Kim, for helping reprise our SPC2012 Conference session from Las Vegas) I also presented a deep dive on using SQL Analysis Services to add PerformancePoint dashboards to SharePoint 2013.
For copies of the slides, please visit www.quest.com/community.
We were also pleasantly surprised to see our free Dell Social Hub demoed as the feaautred app in Ludovic Hauduc's Microsoft keynote about the Microsoft SharePoint App Store. Its a great way to add public social feeds to SharePoint - and its free.
But this was not the only way we engaged with the attendees! We also invited all attendees to visit our booth and play our SharePoint Chaos game. Participants got the opportunity to try and 'slam down their SharePoint Chaos' by hitting our game as hard as possible. (It was a big hammer.) We had a lot of fun at the booth and many took on the challenge to become Mr. or Ms. SharePoint and win a Kindle. After 3 days we named our two winners:
Mr. SharePoint Stephane Desbonnes with 6962 points
Ms. SharePoint Jana Babackova with 4859 points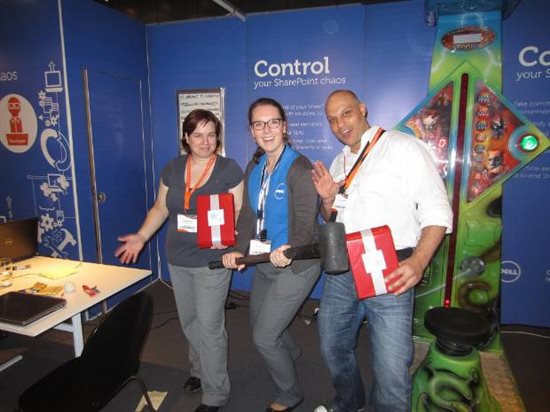 Congratulations to the winners and a big thanks to all who were brave enough to participate. Special thanks to our team at Dell - Kim, Riona, Peter, Alex, Brian, Seamus, Bradlee and Linda - for all their help. Thanks again to the event organizers and staff, and hope to see all of you again next year!