Need to achieve and prove IT compliance and security?
Migrate Windows Server or AD?
Report on the configuration/security of AD, Windows file servers or SQL Server?
Manual approaches are time-consuming and prone to human error. In this new tech demo, see an automated solution with scheduled and on-demand reporting that helps you answer questions like:
Who can do what in Active Directory?

Who has administrative access to Windows servers and workstations?

Who has access to what printers, shares, folders, files and SQL databases?

How are my servers configured?

How does the configuration of my servers change over time?

What local users and groups exist on every server, and what is the membership of each group?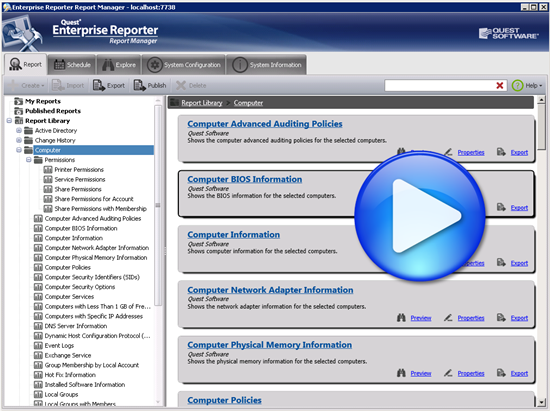 Take a proactive approach with Enterprise Reporter to easily identify and report on who has access to what files, folders and shares, and on what servers. The solution is highly scalable, secure and customizable to support large and complex Windows environments with multiple groups of report consumers.
No time for video? Download the tech brief here.