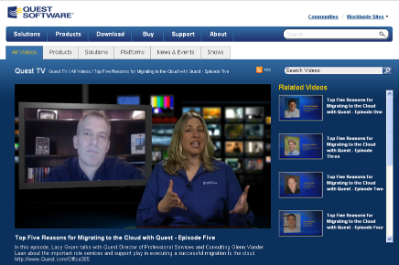 Today we released Episode 5 in our Top 5 Reasons to Migrate to the Cloud with Quest video series. In this episode, I interview Glenn Vander Laan, Director of Professional Services and Consulting, about the important role services and support play in executing a successful migration to the cloud.
Did you realize that evaluating a vendor's services and support is just as important as evaluating the migration software itself? Yes, the quality of services and support can make or break a project – and when it comes to your critical services such as Exchange or Active Directory, it is essential that a project is carried out without a hitch (or at least that if an issue arises that you have the support you need to get it resolved quickly).
Click here to watch Episode 5 and to learn what you can expect with Quest's world-class support and services.

Check out other episodes in the series:
Episode #1: Quest's Experience in Migration with Michael Tweddle, Senior Director of Product Management
Episode #2: Quest's Strong Partnership with Microsoft with Jeff Thorpe, Senior Director of Microsoft Global Alliance
Episode #3: Quest's Strong Partner Community with Michael Sotnick, Vice President of Worldwide Channels & Alliances
Episode #4: Quest's Cloud-based Migration Solutions with Ron Robbins, Product Manager of Quest Migration Solutions
Episode #5: Quest's Global Services and Support with Glenn Vander Laan, Director of Professional Services and Consulting