If you've been following this blog or keeping up with us on Twitter during the course of the past month – a month we unofficially officially dubbed Quest Data Recovery Month – then you know full well that we believe application recovery to be the most critical component of the modern data protection equation. It's no secret why. Today's business environment mandates that critical technology services be available and accessible at all times, and as a result, the role of backup and recovery has changed. In addition to ensuring organizations have at least one good copy of their data stashed away somewhere for safe keeping, IT must now ensure the rapid recoverability of the company's mission-critical applications.
Earlier this month, we unveiled the results of a new survey showing that nearly three-quarters of organizations now rank restoring critical apps alongside recovering lost data at the top of their list of data protection concerns. (If you missed the survey, I recommend checking out this slideshow overview created by blogger Mike Vizard for Channel Insider.) Clearly, most organizations, it seems, know just how important application recovery has become.
As the saying goes, though, knowing is half the battle. Or in this case, knowing is only half the battle. Problematically, and for a variety of reasons, many organizations struggle to restore mission-critical applications in accordance with strict SLAs, despite knowing how important it is to do so. Some of this has to do with the limitations of legacy backup software, and some of it has to do with the need for a change in mindset and approach. But make no mistake: Application recovery is a serious challenge for most organizations.
So with that in mind, Quest has developed a list of five common application recovery challenges, and provided a set of best practices for dealing with each. By investing in application-aware backup technologies, and by following the steps outlined in the graphic below, we believe organizations will find themselves optimally positioned to build a holistic backup and recovery strategy that emphasizes the need to quickly restore mission-critical application. Take a look at the graphic below or visit this URL to get a hold of the PDF: https://www.quest.com/community/b/en/posts/five-application-recovery-challenges-and-how-to-address-them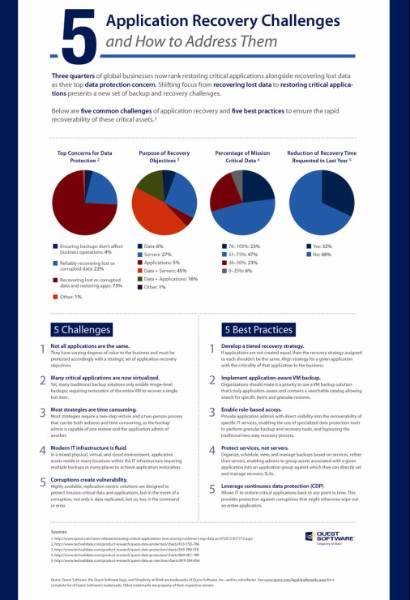 Enjoy!