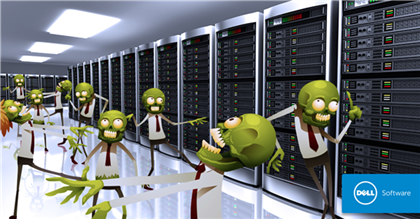 Traditional backups, like a zombie plague, can encroach on your physical and virtual space. Why wait to get wiped out?
Handling unnecessary bytes isn't the best way to maximize compute or human resources. Backing up the same data, again and again is about as productive as hanging out with the dead.
And the size of the footprint is, well, scary.
Fortunately, high-capacity all-flash and hybrid flash arrays are now accessible for businesses of all sizes and budgets. But there's a catch. Two really. A data protection strategy depending on flash technology requires a "smart" backup solution to reduce the amount of data in motion. And optimizing capacity is critical in flash-based environments.
Even with flash arrays, if you don't have the right data protection strategy, your backup data might never live again.
Less is more
To use flash technology to its full potential, you have to install technologies to optimize changing datasets. These four things need to happen:
Flash backups need to minimize data
Restore the workload, not the drive or the file. Use capacity optimization techniques like deduplication and compression.
Recovery needs to be near instantaneous and granular
IT Administrators don't have time to waste. If all you need is a database record, why restore the entire database?
Implement snapshotting if you haven't done so already
Having snapshot capability within your data protection environment is essential. Without it, you can't be efficient at backing up a production-level, flash-based array. Snapshotting at the block level (versus at the file level) makes a dramatic difference
Backup from flash needs to go to flash
If a flash array fails, how will you restore it quickly if you've been backing up to tape or hard drives?
When you need it, you need it
In our 24x7 world, you can't take workloads offline for a backup. A robust backup strategy has to answer for application responsiveness and availability. Your data protection will need to support both application and crash-consistent backups for dozens of applications.
That's why, if you change your production environment to a flash-based system, you have to upgrade your data protection environment simultaneously.
Admittedly, as I write this, zombies have never been more popular – in the movies. But it's about time we kicked them out of the data center.
Here's our paper to help you align data protection with flash technology: