Foglight is a monitoring platform capable of monitoring a wide variety of domains, including (but not limited to) physical hosts, virtual hosts, hypervisors, databases, java servers, IIS Servers and end-user requests. As a stand-alone monitor for any of those domains, Foglight is a worthy product, but it truly shines when Foglight APM is merged with any of the other domains. In addition to monitoring the performance of your application requests and application servers, a key value proposition of Foglight APM is that we tag and follow requests across the application. This allows us to link together transaction paths with the supporting application infrastructure dynamically, creating run-time topology views that allow IT Operations teams to quickly isolate the cause of performance problems linked to specific elements in the run-time stack.
In the screenshot below, we see path flow across the monitored topology. Since we are running in a virtualized environment (and using our virtualization monitoring), I have used the virtualization grouping, which allows us to see how the components are distributed across the ESX servers in the environment. Of course, I can drill further into the ESX servers, the hosts, the databases, the application servers or the individual request. All of this is possible because Foglight APM unifies the monitored environment, providing the context and visualization for real-time troubleshooting across the entire application stack.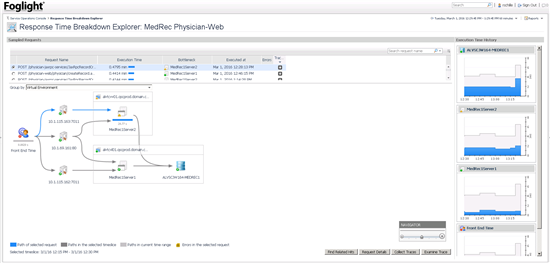 Our customers continually tell us that our ability to widely monitor the enterprise IT environment and tie all of the data together using APM differentiates us from the competition
Come learn more about Foglight APM.