The center point of Foglight Application Performance Monitoring (APM) 5.9 is a common transaction model that supports run-time architecture models that span end-user to database. The key point is that the transaction model fully links end-user transaction data to application layer transaction data, ensuring that Foglight provides a customer-centric perspective on Application Performance Monitoring.
While some vendors will try to assert that application layer requests equal business transactions, or that disconnected end-user and application layer transactional data is acceptable, we take a different approach. For top-level monitoring, Foglight allows you to organize end-user data according to any meta-data or content while still retaining the individual user hits for rich analytic or troubleshooting use cases (more on that another time). Using end-user transactions as a starting point, Foglight dynamically identifies the run-time architecture and response time breakdown, including Front End Time (network latency and page assembly time in the client browser).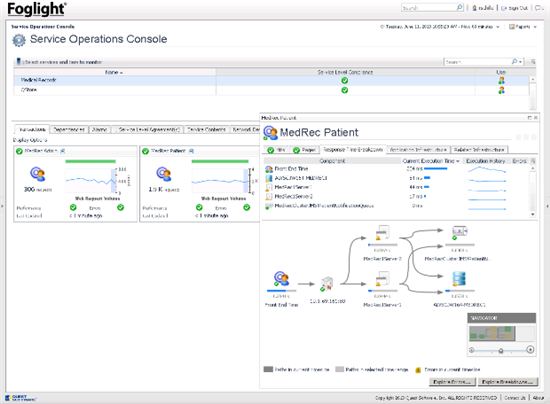 Look for more posts from me covering the features and benefits of Foglight 5.9 APM over the coming weeks.