The convenience of having smartphones by general population has created the expected availability of mobile messaging in every organization. Considering that Microsoft Exchange is the leader in this market, it does provide the capabilities to deliver messages to mobile users. Microsoft Exchange ActiveSync is a synchronization protocol that enables users of mobile devices to access email, calendar, contacts, and tasks from their organization's Microsoft Exchange server.
Although this capability has tremendous value to users of mobile devices, from IT organizations point of view this has created some challenges related to security and availability.
1) Security – IT organizations understand there is security implication that comes with supporting mobile devices. To provide the right level of security, MS Exchange server has the ability to apply security policies to mobile devices in order to authenticate non-enrolled mobile devices (mobile devices which are not domain-enrolled).
2) Availability – The second most important aspect of supporting mobile users is the proactive monitoring of the Exchange environment to ensure availability and performance of Client Access ActiveSync synchronization process is working well.
Foglight for Exchange monitoring cartridge has always monitored the Exchange Client Access Role; however, in version 5.6.8 a new dashboard and rule has been added to the product to specifically help with managing the ActiveSync environments.
The new ActiveSync Dashboard provides the visibility to key performance indicators effecting ActiveSync performance and responsiveness. It provides information such as:
Average Request Time
Requests in the Queue
Pending Commands
See below for a screenshot of the information provided in the new dashboard: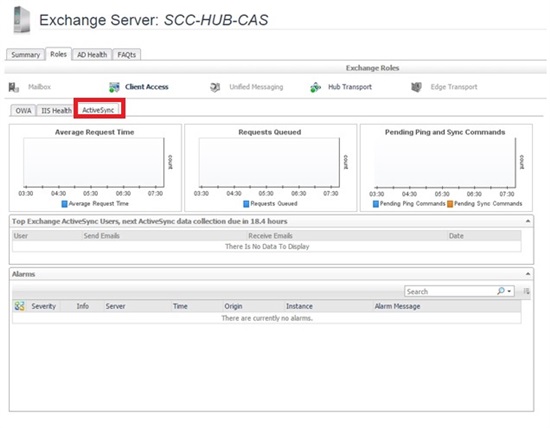 Proactively checking the status of ActiveSync connectivity is critical to ensure a healthy ActiveSync environment. The new ActiveSync rule will check and send alerts when ActivSync Connection failure is detected. See below for the new ActiveSync rule definition: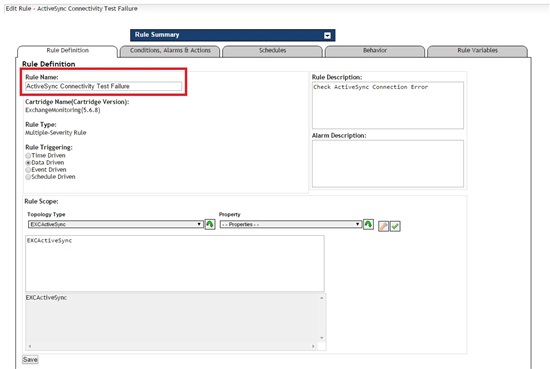 Foglight is the premier solution for performance monitoring and management across multiple technologies, which include: applications, databases, Operating Systems, Storage, and virtualized infrastructure. Foglight for Exchange cartridge helps organizations quickly detect, diagnose and resolve performance and availability problems affecting Microsoft Exchange server in both physical and virtual environments.
For more information visit Foglight for Exchange.