Due to widely acceptance of outsourcing services, internal IT organizations are now challenged with operating in the most efficient manner in terms of meeting higher SLAs while lowering operation and capital expenditures. IT organizations are now expected to accurately calculate and report the true cost associated with maintaining the virtual infrastructure to support the applications running on them. The Chargeback function in FVE is an easy to implement yet powerful way of providing IT organizations with the means to accomplish the task in five steps.
Step 1 – Define the Chargeback method
The first step in creating Chargeback reports in FVE is to decide your approach in capturing the cost. FVE provides the following two methods: Tier Flat Rate (TFR) and Measured Resource Utilization (MRU)
·
The Tier Flat Rate (TFR) – TFR is the method where a flat rate will be associated with each supported tier, regardless of how much resources are actually utilized. For example an IT organization might create the following tiers to calculate the cost associated with the type of servers offered.
Bronze – IT charges flat rate of $300/month for servers in Bronze tier.
Silver – IT charges a flat rate of $400/month for servers in Silver tier.
Gold – IT charges a flat rate of $500/month for servers in Gold tier.
The screenshot below shows the TFR screen in FVE.
The Measured Resource Utilization (MRU) – MRU is another way of calculating charges for servers being offered. In this case the system runs hourly calculations based on predefined MRU templates and users are charged for what you use (the system assumes the resources have been allocated for the past hour)
Below you can see the screenshot for MRU screen in FVE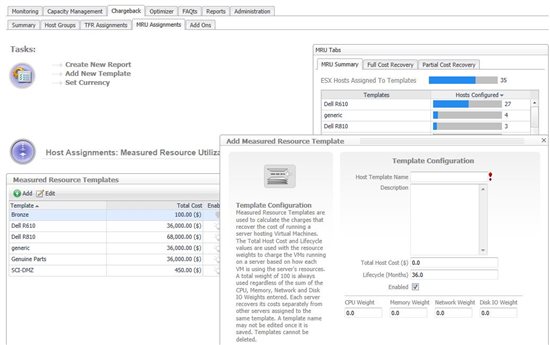 Step 2- Identify the Add On charges
Add on charges are the ones above and beyond direct charges associated with resources, such as: cost of rack, software licenses, power, cooling, etc.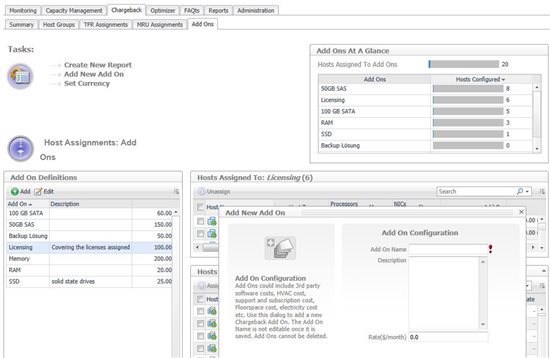 Step 3- Assign resources to the templates you have created
Once FTRs, MRUs, and Add Ons are created, they are assigned to each host to associate the host with its method of calculating cost.
Step 4- Define your Host Groups
The next step is to create the group of Host Groups and assign hosts to those groups.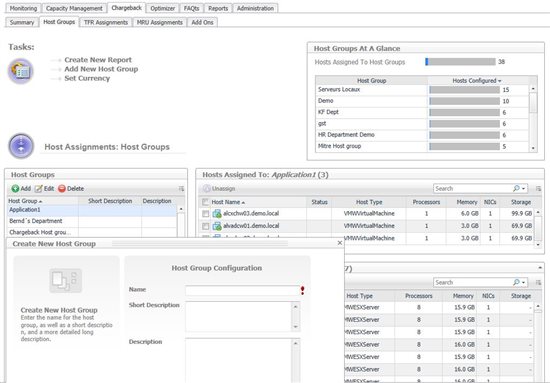 Step 5- Create reports and Report Schedules
The last step is to create the reports and scheduling them to automatically receive the reports on periodic bases.