vCloud Director (vCD) is VMware's cloud provisioning and orchestration software for managing virtual datacenters in order to simplify infrastructure provisioning in the cloud. To provide ease of deployment and reduce the time required to deploy applications in cloud, vCD provides vApp templates of multi-tier applications in Web-based catalogs.
vCD has introduced new objects which sit on top of VMware virtual infrastructure. The following key new objects are included in vCD:
Virtual Datacenters – Virtual datacenters are sets of software-defined services that include compute, storage and networking capacity to enable separation between infrastructure consumers and underlying hardware.
vApp Catalog – Multi-tier applications can be deployed and consumed as pre-configured virtual appliances containing virtual machines, operating system images, and other applications from the catalog
Multi-tenant Organization – Administrators can group users into organizations that can represent business unit, division or subsidiary company.
The diagram below shows the vCD architecture: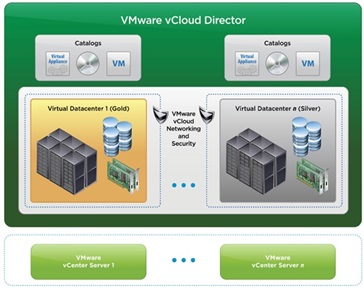 Monitoring the performance of vCD requires monitoring both vCD objects as well as underlying vSphere objects. In Foglight vCloud Director monitoring, we have identified and pulled together the elements from vSphere and vCD in a single dashboard to provide the visibility needed for effectively monitoring vCD's performance. The Foglight vCD monitoring dashboard shows the health of following objects:
Provider VDCs
Organization VDCs
vSphere Resources
Organizations
vApps
Virtual Machines
The screenshot below shows the Foglight's vCloud Director monitoring dashboard:

Foglight's vCD monitoring comes with out of the box rules and alert conditions which are built specifically for vCD in order to proactively detect and alert when issues are encountered. There are rules monitoring CPU, Memory, and Storage utilization for Provider Virtual Datacenters as well as Organization Datacenters.
For more information regarding Foglight vCD monitoring and trial download, visit the Foglight for Virtualization, Enterprise Edition web page:
https://www.quest.com/products/foglight-for-virtualization-enterprise-edition/