During the holidays, we conducted a survey of Foglight NMS users asking the question, "How has Foglight NMS simplified network management in your environment?". The results are in and we are excited to share them with you!
With the amazing number of responses we received, we found it interesting that 42% were first-time network management users. This tells us that perhaps network management tools are not yet as widely adopted as expected. This finding further validates our belief that our rich yet simple-to-use (and free) tool is the perfect way to get started with a network management solution.
Speaking of rich functionality, take a look at the chart below! Our users overwhelmingly choose device monitoring as the most useful feature of Foglight NMS. And… not surprisingly, the additional features were close behind in popularity. We were especially excited about the response to the usefulness of your Foglight NMS Community.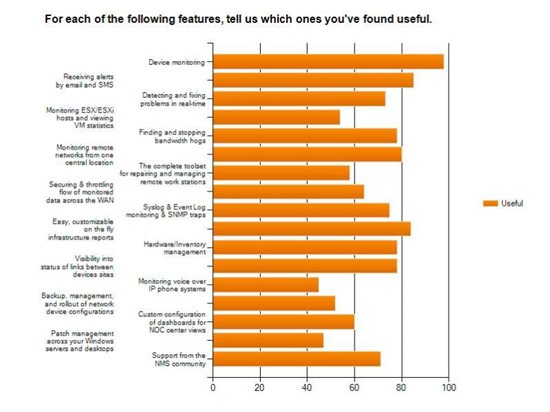 Now for the news you've all been waiting for! The Winners!
All responses to the question, "How has Foglight NMS simplified network management in your environment?" were circulated among the Quest Foglight NMS team and were voted on based on uniqueness, precision and effectiveness in helping us improve our marketing messaging. Winners were chosen based on the number of overall votes received.

The first place winner and recipient of the $300 gift card is: John Miller – La Costa Resort and Spa
"Foglight NMS has given me the opportunity to take a deep dive into the configuration, performance and real-time statistics of my networking environment allowing me to make educated and informed business decisions on-the-fly. That type of insight into your operating environment is priceless."
The second place winner and recipient of the $200 gift card is: Suraj Lal Gopinadhan – GBM
"Foglight NMS - it's a simple, yet powerful system. It has a wide range of reports and alerts for every organization network infrastructure. Good reporting capabilities keep our business managers happy, and our technical people do not waste time on guessing which devices should be rebooted this time 'because something is wrong' on the network."
And, last but not least, the third place winner and recipient of the $100 gift card is: Phil Dolbow – Tactical Communications LLC
"Foglight NMS has increased our overall network situational awareness and that has helped us with our uptime and problem identification – without breaking the bank. The product achieves the same goals as other network management and monitoring systems that are much more costly to acquire and operate. Great job!"
We want to thank each of those that participated in the contest and wish you all a very happy and prosperous 2012! We are excited about the upcoming year and are dedicated to making your user experience with Foglight NMS even better!
The prize winners referenced above and the "first to respond" winners of the $25 gift cards have been notified via email.