Well Interop Las Vegas is officially a wrap and it was great! Here is a snapshot of what we learned at the show.
People expect to have web access from anywhere – especially at events. When they can't get online to access their web apps, a group of conference goers can turn into an angry mob. The losers? Everyone. Event and network managers look foolish because the web doesn't work, conference goers can't multi-task and access work apps in the cloud. It's a no-win situation. Even the almighty Apple Software wasn't immune to network issues during a keynote speech in 2010.
I'm happy to report that none of the above took place at Interop Las Vegas! Event organizers at Interop, one of the largest global IT expos, turned to Network Management solutions like Quest Foglight NMS, for real-time visibility into network performance. In fact, Quest own Foglight NMS was chosen to monitor the entire network infrastructure at Interop, and it came off perfectly orchestrated.
For the second year in a row, our own NOC team worked tirelessly with other participating vendors to ensure that the user expectations were met and exceeded, keeping the environment running like a finely tuned machine. And... it didn't go unnoticed!
In addition to showing the many attendees the power of the Foglight end to end monitoring solution, we had a great deal of interest from the media and conducted VIP tours of the InteropNET NOC center, to give them a "happening live" demonstration of Foglight NMS at work. I must say, they were impressed! And you can't blame them! Monitoring everything from consumption and bandwidth to top 10 applications and humidity (important in Las Vegas), Foglight NMS provided the visibility into the network required to ensure an incredible user experience for all.
Check out the great interview with Bryan Forrester and Rich Tehrani, the executive editor for TMCNet.com, a leading telecommunications outlet. This will give you a great overview not only of Foglight NMS, but the overall Foglight portfolio.
Hat's off to all! Especially our own Rockin Foglight NMS NOC team, Ajmer Singh, Lawrence Hayes and Xinyu Wang! View the interview with Keith Shaw of Network World!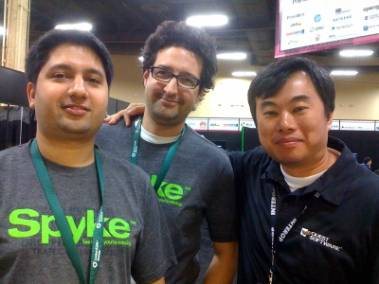 Who says there's no "sure bet" in Vegas? Last week the Quest NOC team proved that, with Foglight NMS at work, the reliability of the network infrastructure at Interop was the best bet in town!