This blog is to highlight couple of useful FVE features which are not commonly known to Foglight users.
1) If for any reason you have had to reboot the Foglight Management Server (FMS) or restart the Foglight Service, you must have noticed that it takes time for the Foglight Console to become available again. Without knowing the status of the restart, the most common way of reconnecting to Foglight Console is by trying until the Foglight console becomes available again.
In order for the Foglight console to be operational, the Foglight server must complete the Startup process which includes, all of Foglight services must be "started" and all Cartridges are "enabled". A great way of seeing the Foglight Startup process is through the following html page:
C:/Quest_software/foglight/state/splash/foglightstartupcount.html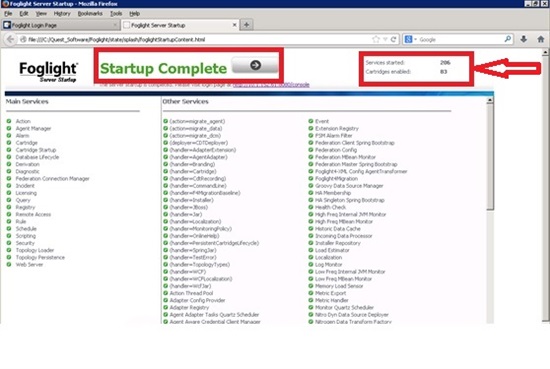 2) In Foglight Virtual Machines Explorer screen there is a section at the bottom of the screen called "Summary and Resource Information (Virtual Machine: XXXX)" which is not expanded by default. If you expand this section you will notice there is lot of detail information about characteristics of the Virtual Machine you are reviewing, information such as:
The name of the Virtual Machine
Uptime
DNS Name
Current Status of the VM (Powered ON/Off)
IP Address
Status of VMware Tools
Operating System
etc.
See below for a screenshot of "Summary and Resource Information" available in the Foglight Virtual Machines Explorer screen: