Foglight for Virtualization, Standard edition 7.0, which we plan to release soon, includes many new features & enhancements. Here I wanted to highlight the freshened UI, new capacity planning workflows, and a new capacity planning capability.
The entire user interface has been overhauled and updated for a much cleaner, flatter, and more professional look and feel. The results are a less cluttered display that's easier on the eyes and smoother workflow for end users. The Optimizer display provides a good example of the new UI:

Capacity management workflows for managing existing capacity and managing future capacity needs have been isolated by the addition of a new Planning tab in Capacity Manager. This helps administrators operationalize the capacity management process in virtual and cloud environments in a more straightforward, intuitive manner.
FVS already helped you model new VM, host server, and cluster deployments, and now with 7.0 FVS enables you to determine the minimum number of host servers needed over time to safely execute workloads. Here you can see the Capacity Manager Planning tab layout, and an analysis determining the minimum number of hosts needed over time: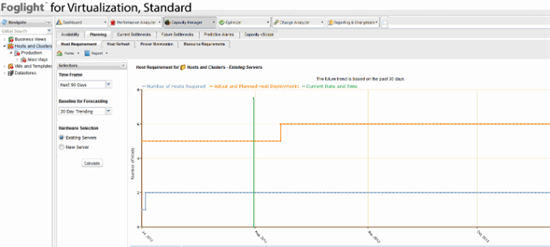 The chart above is the result of analyzing all workloads on the selected resource object (shown in the far left window) including performance, resource configuration and needs, affinity policies, and fault tolerance / high availability policies against existing host servers. The model looks for ways to consolidate existing VMs (and any planned VM deployments) onto the fewest possible hosts without violating the aforementioned performance goals and configuration needs and policies. This can help us understand when the existing environment will hit a wall, and help us determine when to deploy additional hosts and clusters. We can also use the already available Performance Analyzer and Optimizer functionalities to find ways to shift the blue curve downward, to squeeze productivity out of the environment.
I'll follow up shortly with another blog to highlight other new features in FVS.
In the meantime, stop by the Dell booth #1219 at VMworld to see a demo of FVS 7.0 and meet the crew! You can also explore upcoming new releases of Foglight Virtualization, Enterprise and Foglight for Storage Management as well.
Visit https://www.quest.com/products/foglight-for-virtualization-enterprise-edition/ for more information.