So, you took the leap and updated your environment to Stat 5.6? Congratulations! That was a smart move. Along with all of the normal things accomplished in a new release, such as enhancements, bug fixes, speed and performance improvements, one of the Really Super Additions to Stat 5.6 is the addition of iReports – A Custom Report Writer.
This Blog is the first in a series of Blogs on the New Stat 5.6 reports functionality; today's subject will quickly look at obtaining and installing iReports. However, before getting to that, allow me this tangent…
Its Two weeks before the External Auditors are to arrive. The Team Leads are scrambling to find "volunteers" to work with the Auditors and provide the data on the department's changes that have happened over the last year. With a team of five or so, there's one bald guy – He was last year's "volunteer". I can still hear the HR people at lunch complain about his counseling bills they receive weekly. He was once a pretty nice guy.
There's another guy, whose hairline is receding faster than the "Just a Quick Fix" documentation the Developer promised he would write up by the end of two months ago. He couldn't write it today if he wanted to.
Fortunately, we've just implemented Stat last year… and Hope Springs Eternal.
Based on last year's calamity, Mr. "Receding Hairline" Hart has "volunteered" for the position. As the Stat Admin, he's got a pretty good idea of what this will take. It seems that same Auditor is coming around again this year. In an effort to prepare for the worst, I immediately call "Hair Club for Men", upgrade my Stat environment to Stat 5.6, and then, I get to work downloading and installing iReports.
What is iReports?
iReport is a 3rd party reporting tool. It allows you to create your own customized reports to suite your Business processes and reporting requirements – regardless of your business area or field. To quote the Jasperforge iReports description: "iReports is the world's most popular open source Java reporting library, and iReport is a visual report designer for JasperReports."
"The library is a report engine that can be integrated in your open or commercial application to generate the reports designed with iReport, display them on screen or export them in a final format like PDF, OpenOffice, DOCX and many others.
Alternatively, you can stream the result through a web application or send the final document directly to a printer. JasperReports is in some way the core of iReport."
JRXML Report Files: Jrxml flat files are where iReports stores its reports. There's a link in the last section for more information on these file types, but they are closely related to XML files. The quick information is the ability to format the .jrxml files used by the application to create any of the new Stat 5.6 reports. To begin, the initial step that needs to be accomplished in order to get going with iReports is to download and install the application into your current Stat environment.
Steps:
Download & Install iReport.
Seek Additional Information and Links.
So, let's continues by first obtaining and installing iReports as our First Blog gets fully under way.
Step I: Download and Install Jasper Reports:
You can download iReports from the Jasperforge website. And, while you are there - It is advisable that you take the time to create a user account on the Jasperforge web site. With an account setup, you can access additional areas on the site such as support, product enhancement requests, post messages to the user forums and the like. In addition, just to be clear, iReports is available at No Charge. So, let's download and install the application and we'll see where that takes us.
You can download Jasper/IReports here: http://community.jaspersoft.com/ (~ 80 Megabyte download)
Once iReports is downloaded, the current release file is called "iReport-4.0.2-windows-installer.exe". Simply double-click on the file, or launch it through your download manager, and install the application as you would normally install any other application.
When installed you will see a new icon on the desktop:

Step II: Stat & iReports:
As of Stat 5.6, all Stat Reports are created with the iReports Toolkit. The Report Objects are created, and or modified, using a straight forward Graphical User Interface (GUI). This allows you to format any of your existing and new reports you'll want to create in a single front-end interface from the initial layout to report completion and testing. All of the iReport files are stored in .jrxml files. Although some knowledge of XML would be nice, IReport does a great job at formatting the majority or layout and field work for you.
Let's Take A Look At What You Are Going To Be an Office Guru In Very Soon:
Double-Click on the iReport Icon to load iReports.

One of the First things you'll want to do is connect your iReport Data Source to your Stat Repository. Here's a potential "Gotcha" that caught me: Getting iReports to Connect/Speak to Stat:
If you were able to figure this one out on your own, then go buy yourself a nice Coffee or Tea.
If, like me, you looked at the supporting instructions and thought: Huh? Well, you've gotten this far, right? So, why not reward yourself and get yourself that Coffee – You'll want it.
In Addition, you'll want to see the Next Installation of this Blog Series entitled: "Configuring Stat and iReport the easy way!"
For simplicity in this example, let's say that is completed and we are moving forward.
Loading a Report in iReport:
Within iReport choose File > Open > Navigate to your Stat Central Agent File System > Select the Report you want to display from the list:
At this point you have iReport loaded and you have Stat loaded. Just as you would in previous versions of Stat, you would go to the Main Task Bar and choose Reports > Report Wizard. Choose a report and run that.
You should see a report similar to the following, based on your environment/data.
If you are already familiar with iReports, and have already researched the how on customizing a report, you can add that custom Report under the Main Task Bar > Maintenance > General > Stat Reports.
And here, within just a few minutes, I was able to take an existing/delivered Stat report, custom it, with an image and some changed text, and run it in iReports Preview Mode.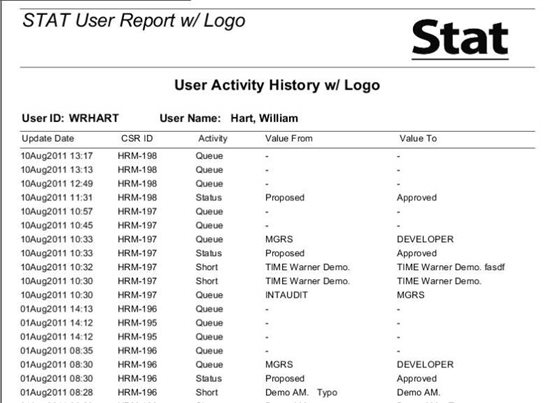 And that's it.
You can either create your own reports from provided templates that iReports delivers, or simply take a Stat delivered report and custom that to fit your specific needs.
Please see below for additional resources you may want to take a look at. Thank you for taking the time to read the first in a series on iReports. The next Blog will deal with Configuring iReports in your environment.
Join us next time!
Additional Information Resources and Web References:
Below you will find external links to some resources you may find helpful.
Please Note: This blog, and those that follow in this series, will partially be a summation of information currently obtained from several different sources including the Stat 5.6 System Administrators Guide as well as from the Jasperreport/iReport web resources.
iReport Links:
Quest/Stat Web Links:
Thank You!


William R. Hart
Solutions Architect
Quest Software, Inc.