Many thanks to all the folks at Gilbane who hosted me this week as part of a panel on SharePoint Adoption at the Gilbane Boston Conference 2011. It was an honor to share the stage with Marc Anderson (@sympmarc) and Dan Antion (@dantion).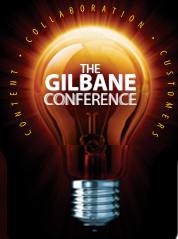 A couple of points from our session I wanted to reiterate:
Adoption and governance are closely linked. Users surging onto SharePoint need governance, clearly – but waiting for those users is too late to start governance. Governance provides guidance that's essential to adoption.
In fact, adoption may be the wrong focal point. Locking users to a SharePoint home page may count as "adoption" but we should really focus on achieving business goals and users satisfaction
It's important to understand the culture around SharePoint to drive adoption. Some great tools to measure SharePoint maturity have been published by Sadie Van Buren (@sadalit) at www.spmaturity.com/home.aspx.
Some numbers from our session attendees:
32% reporting being happy with the general adoption of SharePoint for document management and collaboration ("traditional")
Only 11% reported being happy with the adoption of SharePoint's "second wave" features (social, business intelligence, workflow, etc.)
Finally, 26% have rebranded their SharePoint projects as something other than "SharePoint", "intranet", or http://servername
Gilbane is a great way to get current on thought leadership for content management and web publishing. Thanks again to our attendees, organizers, and sponsors!