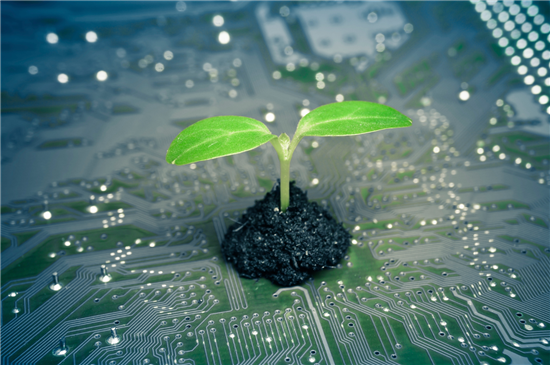 The annual Earth Day celebration is upon us, and with it the goal to spotlight the planet's environment, and increase public awareness of what can be done to reduce pollution and improve sustainability. Started in 1970, the original intent was to organize a nationwide movement that focused on educating people regarding the fragility of our environment, and develop ways to better defend our planet. Initially a grass roots movement, it has gained public support and has been the driver for such mandates as the creation of the Environment Protection Agency (EPA) and the passage of the Clean Air Act and the Water Quality Improvement Act, among others.
Reading a recent article about Earth Day and its goals got me thinking about our own world of Information Technology, and how we in IT try to be more ecologically responsible. In fact, it kicked off an informal discussion in our office, which centered on the question...
What ever happened to Green IT?
What had been the topic du jour for technology publications and industry pundits a few short years ago, now seems to have faded away like the iPhone 4. But what might be the reason for the disappearance of Green IT, or at least its shift in focus? My colleagues had some interesting views:
It's a normal day to day activity — IT organizations now simply incorporate sustainability and resource efficiencies in everything they do- it doesn't need a name or justification to make it a priority.
Regulations — The early focus on Green IT has produced both official and unofficial regulations that govern our devices and processes, reducing energy impact and making over consumption an unacceptable option.
The cloud — Moving much of the infrastructure for an organization's IT processing requirements to an on demand service model has de facto reduced the concentration on individual use and footprint, and shifted the ecological onus to the providers.
Common sense — While less than ten years ago awareness and an ecological focus for IT needed a boost for acceptance and action, today's understanding of the limitations of our collective global resources is just the correct way to approach the challenge.
Just for validation, we did an informal poll of our customers to try to understand their take on Green IT and how it played (or didn't play) in a variety of organizations. Not surprisingly, we were greeted with a breadth of responses:
Issues such as power consumption/savings were at the top of their lists for ecological initiatives, such as automated sleep mode for inactive devices.
Decommissioned devices were being recycled, or were being donated to non-profits to extend their useful lives.
New purchases all had an eye for optimal energy effectiveness.
Virtually all were recycling IT packaging materials.
While some said Green IT was not a priority, the bulk said striving for ecological efficiencies were now part of their daily operations.
Dell has always been a leader in sustainability, from recycling initiatives to innovative ways to create packaging that doesn't end up as land fill fodder.
At Quest, we've also kept an eye toward environmental and ecological best practices via our Quest KACE systems management appliances. The ability to perform centralized configuration management, power down idle endpoint devices via power management capabilities, the elimination of travel necessary for systems deployment and remote management, the availability of a virtual appliance or hosted appliance that reduces energy consumption and resource drain, all combine to make Green IT a reality — even if it's not today's top news story.
Welcome Earth Day, we're all still working hard on minimizing our IT carbon footprint.
To that end, we invite you to view an on-demand demonstration of the Dell KACE Systems Management and Systems Deployment Appliances.