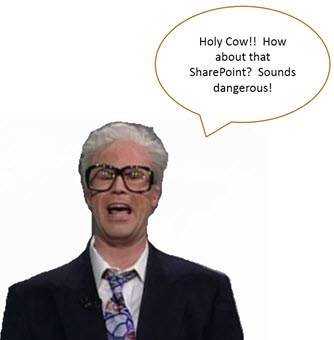 Holy Cow! If you are reading this blog post, there is a good chance someone has put you in charge of SharePoint. If you don't know who the funny looking guy pictured above is, he is Harry Carry, the former longtime play-by-play voice of the Chicago Cubs. He was famous for saying "Holy Cow!!" during games when something exciting happened. I would categorize being put in charge of SharePoint as being an exciting event. If by chance you are not familiar with Harry Carry, I have also included an actual holy cow below.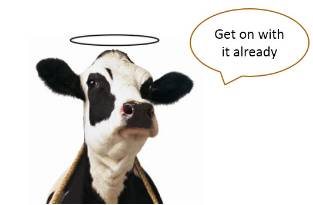 In part one of this blog series, I will discuss some of the fundamental things to keep in mind as you begin your SharePoint journey. SharePoint is a solution that provides many capabilities and understanding some of the foundational concepts is important and will help you get off to a good start.
Now that you're in charge of SharePoint, you probably fit into one of the following slightly obvious category's below:
You are completely new to SharePoint
You have less than 12 months of SharePoint experience
You have more than a year of SharePoint experience
In my presentation of this topic at SharePoint Saturday Redmond, I asked people in each category to raise their hands. There was a fairly even distribution of people across each category. My point in doing this was to demonstrate to everyone that there are others in a similar situation. Whether you have a few months or a few years of SharePoint experience, being put in charge can seem incredibly daunting. Regardless of your experience, the reality is that you are probably one of the following:
You are the SharePoint Jedi master (or Sith lord depending on your affiliation)
Everyone thinks you are the SharePoint Jedi master, but you are skeptical
You never really used SharePoint, but you have a few big books and love to drink a lot of coffee (me too love the stuff)
To top it all off, you are probably still responsible for everything you were responsible for prior to being put in charge. In a way this new "exciting" responsibility only adds to the stack of things you need to manage and worry about. Let me be the first to say congratulations! Ok this is me ducking as you try to Judo chop me in the face for my sarcasm! In all seriousness you are about to embark on an amazing journey. Here are 5 simple things to keep in mind as you begin.
You are not alone - There are a lot of other people beginning the journey with you.
No one is an expert in all things SharePoint - SharePoint has so many facets and uses it's virtually impossible to be an expert in everything.
Community, Community, Community– One of the unique things about SharePoint is the user community. It's big, incredibly collaborative, and full of people who sincerely want to help.
Best answers not "Right" answers– The way SharePoint is used varies greatly. Just because something works for one company does not mean it will work for others. Think about what's best for you and your organization.
It's art & science because it's people and technology – They key to a successful SharePoint experience is as much about the people who use it as the technology itself. You have to efficiently work with both to be successful.
You may not know this but SharePoint is a bigger product than you might think. Roughly 85% of fortune 500 companies use it in some capacity today. The growth rate of the product has been staggering and continues to increase. Some 20,000 user seat licenses have been added every day for the last 5 years and the number is increasing. That's a lot of users! So many in fact that it's the fastest growing product in Microsoft's history. Another way to put this is that if SharePoint were a standalone business, it would be in the top 50 software companies in the world. See you are definitely not alone. It's almost like a party that more people keep showing up to. I like a good party, who doesn't? I know what you are thinking here; "Is Dan trying to say that SharePoint is like a big party". Why yes, yes I am. By the way, try the egg rolls they are delicious. For those of you new to the party please don't be shy. I am personally inviting you to join the SharePoint for All Community. This is a great place to start engaging with Dell SharePoint experts and your peers. I think this is a good breaking point. In part two, I will talk about the different user roles to be aware of as you get started. Enjoy the process!!