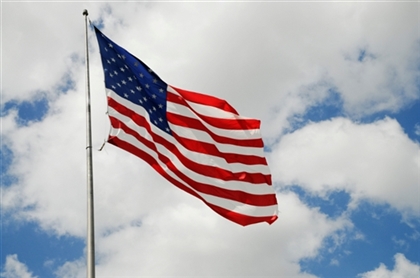 Each year in the United States, we observe Veterans Day on the 11th day of the 11th month. It is a day we have declared to be a national holiday, one that honors the people who have served in the U.S. Armed Forces.
Here at Quest, we are fortunate enough to work alongside a number of veterans. Each of them have unique stories and we wanted to take the opportunity not only to thank them, but to also pass along some of the stories they were gracious enough to share with us.

Meet The Veterans
Thomas Van Dalsen served in the US Navy from 1992 to 2002. He began as an Optical Man (OM), repairing submarine periscopes and surface ship navigational instruments. He states he was later force-converted to Electronics Technician (ET), specializing in Naval UHF SATCOM terminal programs-AN/WSC-3.
Bryan Jamieson served in the US Navy from 1989 to 1992 during the first Gulf War. The Navy is a family tradition and he was an ET (Electronics Technician) And Served on the USS Independence In Yokosuka, Japan. We're also fortunate enough to know that his partner served in the Army from 2002 to 2005 during the second Gulf War, and was a 25V (Combat Documentation/Production Specialist) and Served at Ft. Irwin National Training Center in Barstow, CA.
Thomas J. Robinson served in the United States Air Force from 1992 to 2012. His Air Force Specialty Code (AFSC) was 491X1, 3C0X1 and 3D0X2 (Communications Computer Systems Operator) and did the same job his entire career. Interestingly, his job designation changed three times because of the major changes in the computing fields over the years.
James E. Gary Jr. (Jim) served in the Air Force from 1983 to 2003. His Air Force Specialty Codes (AFCSs) were Civil Engineering (1983-1987) Base Emergency Engineering Force at Langley AFB, VA with several deployments. As well as Communications/Network Operations (1987-2003) at Los Angeles AFB, CA (1987-1993) and USAF Academy, CO (1993-2003) also with several deployments.
Austin Foster served in the Air Force from 1998 to 2005. His Air Force Specialty Code was AFSC – 3C0X1 (Communications and Network Operations). Both of his parents also served in the United States Air Force!
Robert Sandri served in the US Naval Academy for four years, and in the Marines for five years from 1987 to 1996. He was an Armor Officer, Intelligence Officer and primarily served with various units that were part of the Second Marine Division.
What was your best memory was from the time you served?
Thomas Van Dalsen – "If I have to pick one, it would be when I saw Venus while crossing the Suez Canal. The ship was at Condition Zebra and I was not supposed to be outside. I had 00-04 watch as Nav Plotter and wanted to take a short-cut to the Navigation Room. The night was so dark that it had substance. I had never experienced darkness like that—the ship cutting through the water made it feel like I was enveloped in black ink. As I egressed up, deck after deck just on feel, I finally made it above the Helo deck, which was open to the night sky. The sky was filled with stars and Venus was a huge blue marble that dominated the sky. I have never seen anything like it.
Also, No matter how hard the work, how long the hours, or how arduous the separation, there was never any doubt that I was doing something incredibly important, unique, and amazing."
Robert Sandri - "Playing the card game 'Spades' with my tank crew while sitting in the desert in 120F heat. I remember looking at their faces as we played and marveling at our country and the people in it. My crew was a small microcosm of America and represented what is best about our country. When we work together we can do anything."
Thomas J. Robinson – "My first job working in what would be called an enterprise environment today; I was the webmaster for Lackland Air Force Base. I worked with some amazing people and it was one of the most rewarding jobs in what I learned as well as what I accomplished. It set the stage for the type of work I do today with Dell."
While serving, what was your most prized possession?
Thomas Van Dalsen - "Phone calls home! Not really a possession, but most days I would be willing to give up everything for 15 minutes with my wife and daughter."
Bryan Jamieson - "100% My WESTPAC Jacket with the Flags of all the Ports of call we went to."
What types of computers/technologies were used that you could tell us about?
Austin Foster - "Open BSD, Open VMS, Windows 95 – 7, Red Hat, Solaris, Vax, Teletype, Mainframe, Cisco Network Devices, Cabletron, Pairgain, telephony, EMC Storage, Brocade Switches, Sidewinder Firewalls, Exchange, Sendmail"
James E. Gary Jr. (Jim) - "Pathworks PCSA, Novell, DecNet, Banyan Vines, VAX/VMS, Unisys 2200, Sun Solaris, Token Ring, Ethernet, Wireless"
How different is your life now compared to your time in service?
Bryan Jamieson – "Similar, since my position requires me to travel extensively and I still work on computers, and yet different since I am now happily married to my partner of 11 years, we got married on Veterans Day 4 years ago on 11.11.2011"
James E. Gary Jr. (Jim) – "I travel more frequently now – LOL, but the travel is for shorter periods of time and not as "hazardous to your health" unless you are working a Public Sector gig gone wrong. Also, technology transformations happen much faster outside of most governmental restraints"
Thomas J. Robinson – "It is completely different. The time you spend in the military and the work level expected of you is completely different from civilian life. You are essentially on duty every day and night, even in your off time you are expected to represent the Air Force 100% of the time. Today, I get to enjoy a lot more time with my wife, children, and grandchild. I have zero regrets of the time I gave to the Air Force because it helped protect the things I love most, my Family and my country."
What was your favorite part of transitioning back into civilian life?
Robert Sandri – "For the first month before I started my new job, I grew a full beard."
Austin Foster – "The focus on family and being able to control the 'deployments' to some extent, LOL."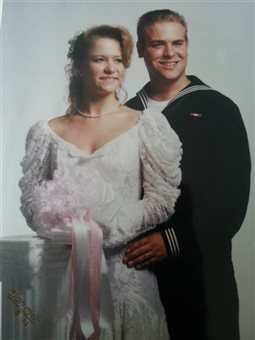 Thomas Van Dalsen on his wedding day.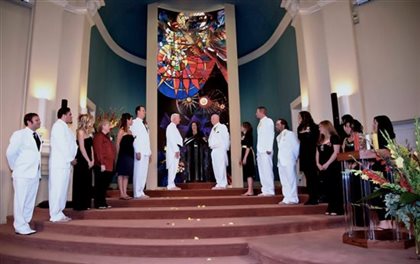 Bryan Jamieson on his wedding day.
From all of us here, we humbly thank each and every veteran for your service.